Bob Proud: A Life Dedicated To Clermont County And Its Veterans
Clermont County's Bob Proud is a politician, through and through. He doesn't shy away from the term.
To Proud, the term politician equates to "public servant."
And the service extends beyond what is required to be a county commissioner. In Proud's case, it extends to a very large community of military families in Clermont County who have found a friend and constant companion in good times and bad.
Now, at the age of 58, he is retiring after seven four-year terms as a Clermont County commissioner – a job the Republican politician could have kept for life if he had wanted to, but other priorities came along.
It was a job that, in a sense, he fell into 28 years ago. Proud, who grew up on a small farm near Amelia, was finishing up his master's degree at Xavier University and working for Lois Dale, then the county's senior services director.
Dale recruited him to run for commissioner; and he won handily.
Proud campaigned all-out, thinking outside the box to get his name known county wide. He'd go to the area WalMart store or the mall and have himself paged just so people could get used to hearing his name. Or he would have his friends call WOBO, the radio station in Batavia, and dedicate a song to him.
After that first election, getting elected commissioner became a whole lot easier.
Three years ago, at the age of 55, he married for the first time. He and his wife Rebecca Reynolds Proud, have a bright, active mop-topped two-year-old named Michael. And while his wife pursues her career as a professor at the University of Cincinnati's Clermont Campus, he will be a stay-at-home dad.
"I'm exchanging one title for an even better title,'' Proud told WVXU. "The title 'Dad.'
He will leave county government behind, but he has another passion in life that he will continue to pursue – that of advocate, friend and unofficial family member to hundreds of Clermont County families who have sons, daughters, husbands and wives serving in the military.
Seven years ago, Proud co-founded a military support group called "Whole in My Heart,'' which has over 400 members and meets every month at the Union Township Administration Building.
Clermont County is a place where military service is a tradition in many families; and there was a rush of young people eager to serve after the terrorist attacks of 9/11 and the wars in Iraq and Afghanistan began.
It is a county that has paid a heavy price for the military service of its young men and women.
On the wall outside the county commission office – and inside Proud's commission office – are the portraits of 12 soldiers and Marines from Clermont County who have lost their lives in Afghanistan and Iraq.
Every one of those Gold Star families – the term for families who have lost a loved one in war – know Proud well. He has been in their homes; he has been at their side as they grieved; he has organized massive public "celebrations of life" for each of them, as long as the families approved.
"All 12 of those families left behind have become like families of mine as well,'' Proud said.
And he is always there for family members of deployed service members when they are halfway around the world.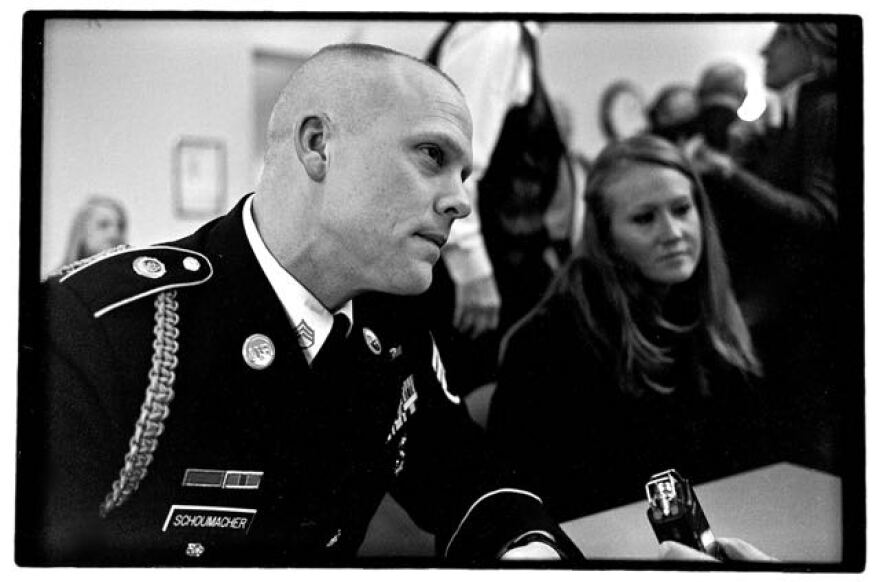 Chris and Kristin Schoumacher know. Chris, then a sergeant in the U.S. Army, was deployed to Iraq in 2011 as the U.S. was in the process of pulling out of that country.
On Dec. 16, Proud's friends and family threw a retirement party for him at the Clermont County Engineer's Office near Batavia, where dozens from the various parts of Proud's life – family, fellow politicians, county workers and former service members and their families – showed up to give their friend a hug and to say thanks.
The Schoumachers greeted Proud warmly with hugs. Chris, although out of the service now, was in his dress uniform.
"He really helps the families cope with their loved ones being overseas,'' Chris Schoumacher said. "The Whole in My Heart group is there to keep the families busy and keep the deployment off their minds.
"He's just a loving and caring individual and he'll go out of his way to do anything for you,'' Chris said.
Kristin said that sometimes she would get a call from Bob asking how she was doing. The next thing she knew, pizzas would be delivered to her front door.
"He would order pizza for us, knowing I had three young kids at home,'' Kristin said.
Joy Kiser knows the dedication of Proud to military families better than most. Her brother, Sgt. Chuck Kiser, an Army reservist from Amelia, was the first Clermont County native to die in Iraq in an attack on an Army compound near Baghdad in June 2004.
She said that she had been to a Gold Star family support group with her mother, Glenda, who passed away last year, and found it sad. Proud, she said, convinced her to get over her reluctance and start attending Whole in My Heart meetings.
"It's like he knew it would be a healing process for me and it was,'' Kiser said. "He introduced me to a new family. And I truly love that Whole in My Heart family with all my heart."
Proud, Kiser said, "is still my brother and he has been there for me every day since then."
Why does he do it? Why will he keep doing it, even in his new role as "stay-at-home-dad"?
He never served in the military himself – "one of my great regrets,'' he said – but he had many family members who served in World War II, Korea and Vietnam. He is named after an uncle who was killed on the Philippine island of Luzon in World War II.
After 9/11, Proud said he saw the suffering of people with deployed family members and those who lost loved ones in war and wanted to do something to help
Whole in My Heart, Proud said, "was created to give families an avenue where they can come together and they can talk about what they are going through with others who have gone through it, or are going through it still.
"Those people know what they are going through,'' he said. "And, to me, that was important."
The group, he said, is exactly what its name implies – it is a "support group."
"For the family member who is being deployed, they know that their family back home is being taken care of,'' Proud said. "And, by them being assured of that, they're able to concentrate on their mission. And that's very important to them as well. And so, it's a double blessing."
Proud believes his desire to serve others was instilled in him by his parents, Beulah and Charlie. They had a small farm in Amelia, back when that area was mostly farmland; and the family grew soybeans and field corn; and raised hogs, chickens and cows.
As a politician, Proud says it was his upbringing that made him successful.
"The thing that I am most proud of is that I have been able to keep myself grounded,'' Proud said. "It's easy for your ego to take over.
"It's easy for you to start thinking that the people of the county all work for you, rather than vice versa,'' he said. "But, again, between my parents, the upbringing of always telling me, even when I was little, to always be honest, always treat people the way you would want to be treated.''
"And as my mother, to her dying days, drilled in my head that your name will go further than you ever will."
Although he leaves as commissioner with the county in good fiscal shape and continuing to grow, he won't brag about his accomplishments. During his years in office, the population of the county has gone from about 140,000 to over 200,000. He said it is now the 14th most populous county in the state.
"We're officially an urban county, but we're also officially an Appalachian county,'' Proud said. "I don't think there is any other county that can say that."
"With the tremendous growth – population-wise, business-wise – we still in this county have maintained a community mind,'' Proud said. "If something happens in one community, we all rally to support them – either the floods in the southern part of the county or the recent tornado that we had in Moscow. People come together."
He has packed up his personal belongings from his office at the county administration building in Batavia. That part of his life is over.
But the part of his life in which he serves military families will carry on.
Over the years, Proud has brought countless military veterans in to county commission meetings to be honored. The last such ceremony was on Dec. 7 for Senior Master Sergeant Ric Stamm of Felicity, who will retire from the Air Force in April after several overseas deployments.
Sitting in Proud's office after the ceremony, Stamm told WVXU what Proud had meant to him and his wife Geralyn during his deployments.
"Bob kept tabs on Geralyn while I was gone,'' Stamm said. "She felt all she had to do was make a phone call and whatever was wrong would be dealt with. She didn't have to do it herself.
"That's what Bob Proud meant to us."