Portune To Undergo Precautionary Chemotherapy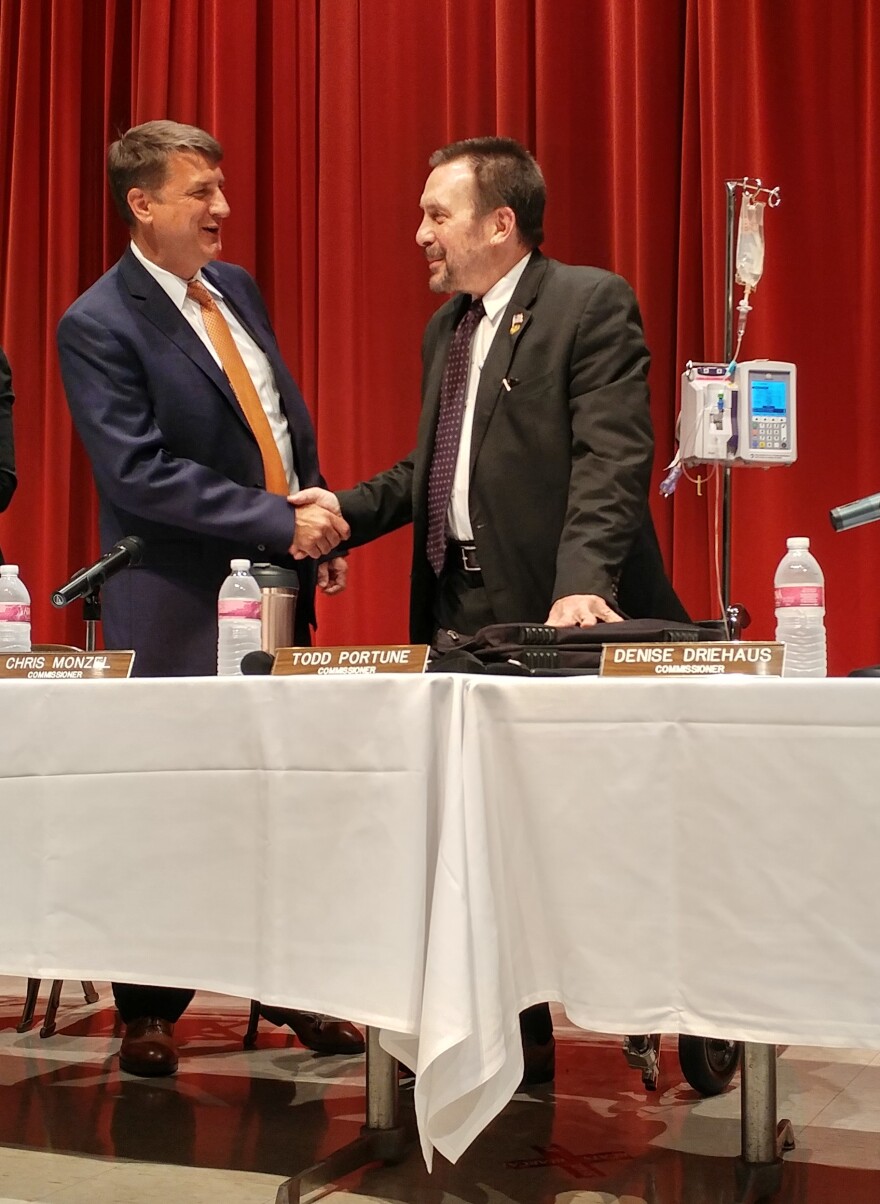 Todd Portune will be undergoing more chemotherapy. The Hamilton County commission president was hospitalized in April and his left leg removed to stop a tumor from spreading. Portune calls this chemotherapy "precautionary."
"I always knew this was a possibility in connection with this particular kind of cancer," he says. "I've had scans since the surgery and there is no evidence of tumor activity anywhere in my body. But my treating physician and the second and third opinions I received all said it would be appropriate to have chemotherapy."
Portune says he planned to check in to University of Cincinnati Medical Center Wednesday afternoon to begin the first of several rounds of chemo. He says each session will keep him hospitalized for five days. That means he could miss some meetings as the commission works on a 2019 budget that faces a $29 million deficit.
"The only reason I'm saying this is in a couple of weeks, I wouldn't be able to hide the fact that something else is going on, because I'm going to lose my hair," he says. "Regrettably, I'm going to lose my mustache." Portune says he's had a mustache since his sophomore year in college.
Portune is trying to turn the impending hair loss into something positive. He says he's working on an event where he could shave his head, and upper lip, to benefit a charity. "I'm reminded of Marty Brennaman, who had his hair shaved some years ago, to benefit a great cause."
Portune says anything that can be raised from his head-shaving will go to the Down Syndrome Association of Greater Cincinnati. His daughter, Emma, was born with Down syndrome.
He also says he's looking into wearing different caps each week to promote causes and non-profits.
"I applaud you as always," says Commissioner Denise Driehaus.. "You take something that is usually not the best of all situations and turn it into a positive situation."
His last hospitalization lasted about five weeks in April and May of this year. Portune was excused from commission meetings but followed along on Citicable and participated via speaker phone. Portune thanked fellow commissioners Denise Driehaus and Chris Monzel for working hard during the last absence, and doing the same this time. "You know me, I'm probably going to do more than my doctors want me to do."
These are not the first of Portune's health problems. He was diagnosed with tumors on his spine in 1996. A blood clot in 2002 led to partial paralysis. He served on Cincinnati council before he was elected to commission in 2000.