For 50 years, Howard Wilkinson has been covering the campaigns, personalities, scandals, and business of politics on a local, state and national level. He's interviewed mayors, council members, county commissioners, governors, senators, and representatives. With so many years covering so many politicians, there must be stories to tell, right?
Some Read History; Pearl Harbor Survivor Joe Whitt Lived It
Over the years, I have walked many a Civil War battlefield, from Gettysburg to Shiloh to Antietam; and, as I walk, I always stop and ponder the "witness trees" – the massive old trees that were actually there in the 1860s and witnessed the battle.
I've always thought of my old friend Joe Whitt of Clermont County, who died April 14 at the age of 97, as a human witness tree.
To Joe, whose long life ended as a resident of the Ohio Veterans Home in Georgetown, the Dec. 7, 1941 attack on the U.S. naval base at Pearl Harbor, Hawaii, was not a distant event, or the subject of books and movies and academic discussion on how and why the Japanese attacked that Sunday morning.
Joe Whitt was there.
Joe was on board a heavy cruiser, the USS San Francisco, in dry dock in the harbor, when the bright blue Sunday morning sky over Hawaii turned dark with Japanese fighters and bombers, dealing death from the skies.
Through the smoke and the fire, Joe saw the USS Arizona destroyed by bombing and sink beneath the waves. His battle station was a 12-inch anti-aircraft turret gun, but it couldn't be fired in those close quarters, so Joe and his mates were given old bolt action Marine rifles and told to fire at the incoming planes.
They might as well have been using pea-shooters. The sky was thick with Japanese planes.
"It was complete chaos; it was a surprise attack and no one was prepared for what we faced,'' Joe told me years ago when I interviewed him for one of the Pearl Harbor stories I did for the Cincinnati Enquirer.
On that day, the day "that will live in infamy," as Franklin D. Roosevelt called it, 2,403 Americans died and another 1,178 were wounded.
"Even after all these years, the memories sometimes come flooding back and are so real to me that it is like I am back there in Pearl Harbor,'' Joe said one day, as we sat in a McDonald's in New Richmond having lunch.
"I can smell the smoke, the burning fuel, and the ships sinking into the harbor. It is not something you forget."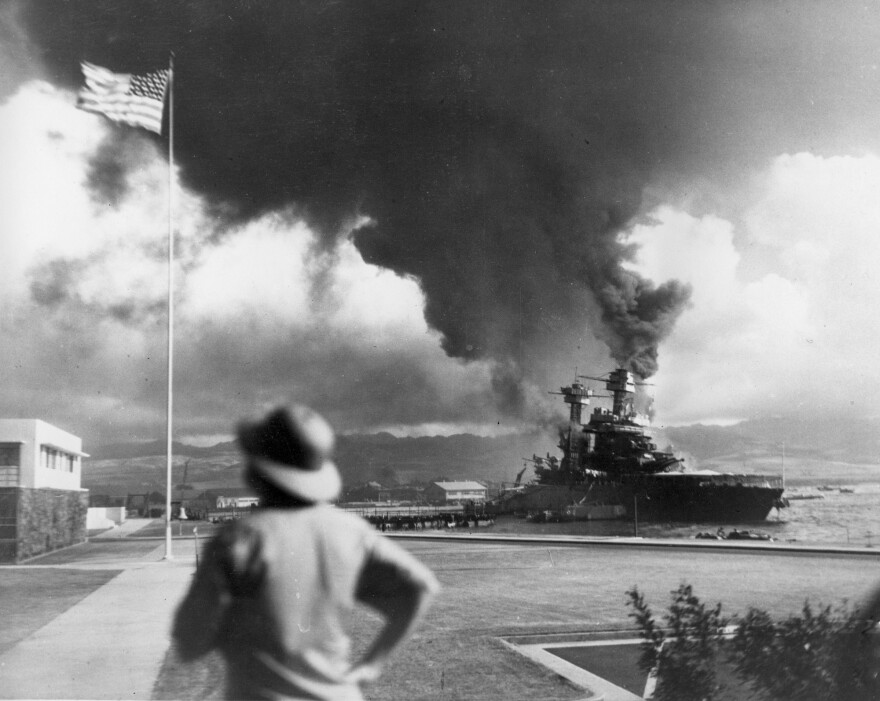 And, on that day, he was an 18-year-old boy from Bethel, Ohio, who had enlisted in the Navy almost exactly a year before the attack on Pearl Harbor.
I believe the first time I met Joe was in 1995, when a monument was dedicated to the county's 17 Pearl Harbor survivors.
Joe Whitt was, up until last week, the last one surviving. Now they are all gone.
But the stories told by men like Joe Whitt won't die.
They are preserved in countless news stories over the years, including some of mine. And they survive in the recorded interview Joe did several years ago for the Library of Congress' Veterans History project, preserved forever in the archives of both the Library of Congress and the Clermont County Public Library.
"It's not lost, not at all,'' said former Clermont County commissioner Bob Proud, one of the founders of a support group for military families called Whole in My Heart.
Proud was a good friend of Joe Whitt. Joe's story, Proud said, "is going to live on in the hearts of every school student and adult who heard him speak over the years. Thousands of people influenced by this man. This is history come to life."
Joe spoke to countless groups over the years, both adults and school kids. Years ago, I went with him to Bethel-Tate Middle School and heard him speak to students there who had been studying World War II in textbooks. Suddenly, though, there was this elderly man in front of them who was actually there at the moment Pearl Harbor was attacked.
The kids were completely mesmerized.
Proud remembered a time when Joe was asked to speak to a kindergarten class in a local school.
"Joe told me, 'I can't go there and talk to these little ones about all of that – the blood and the gore and the death,' '' Proud said. "Joe said, 'I just can't.' ''
So, Proud said, Joe showed up at the class and talked to them about what it was like being in Hawaii and how beautiful the islands were and how he used to watch the whales jumping in the water.
"He charmed them,'' Proud said.
This was a man whose World War II story did not begin and end on Dec. 7, 1941. He ended up serving in the Navy for six years, seeing action in 17 major battles. You could say that he heard the first and last shots of World War II – the first at Pearl Harbor, the last at the end of the war in Okinawa.
He came home to Clermont County and raised a family. At his death, he was survived by his wife Judith, a son, Rodney Whitt; a daughter, Carolyn Larson; six grandsons and seven great-grandchildren.
Joe Whitt considered himself blessed to have survived the war and to have had such a good life, raising his family and becoming one of the most beloved figures in Clermont County.
"I think of all those who died that day at Pearl Harbor and I wonder why I survived,'' Joe told me once years ago. "I guess I was meant to go on and keep their memory alive. That's what I try to do."