Affordable housing has become a hot-button issue in Greater Cincinnati over the last few years, garnering media attention, promises from elected officials and no small amount of debate. Here's everything you need to know about affordable housing in Cincinnati.
How To Understand Housing Affordability Data In Cincinnati
This week WVXU reported on new data about the affordable housing gap in Cincinnati. The story sparked a lot of questions about how different reports can be compared and how Issue 3 would affect the housing shortage.
Local officials were looking for more recent data than the much-cited 28,000-unit gap, which comes (in part) from a 2017 report based on 2010 to 2014 Census data.
In response, UC economics professor Michael Jones used a national report with 2019 Census data to estimate a gap of about 8,000 units in Cincinnati.
Dan Threet, a researcher who worked on the original report for the National Low Income Housing Coalition (NLIHC) says he wouldn't recommend the methodology used to reach the 8,000-unit estimate. Instead, Threet pointed to an analysis of HUD data from 2013 to 2017, showing a deficit of 19,230 affordable and available homes for extremely low income renters in Cincinnati.
RELATED: What Does 'Affordable' Housing Mean In Cincinnati?
Here are a few of the questions we received:
Do the reports show a decrease in the affordable housing gap over time?
Not necessarily.
The 2017 LISC report and the 2021 NLIHC analysis use different variables and aren't directly comparable.
Both reports look at the lowest-income residents in the area, calculated as those who make 30% or less of the Area Median Income, but the reports use different definitions of AMI.
LISC uses Median Household Income for Hamilton County alone, which in 2014 was $48,927. This is the median income for all households, so it includes people living alone, unrelated people living together, and families of all sizes. The estimated gap (40,000 units county-wide, 25,000 units in urban Hamilton County) includes all households with annual income of $14,678 or less.
The NLIHC reports use Median Family Income for the entire Cincinnati metro area, which includes 15 counties in Ohio, Kentucky and Indiana. In 2017 the Median Family Income was $74,700 for a four-person family. The NLIHC reports include all households making 30% or less — $15,700 for a single person or $24,600 for a family of four.
RELATED: New Data: Cincinnati's Affordable Housing Gap Is 19,230 Units
Another significant difference is that while NLIHC looks only at renter households, the LISC report also includes owner-occupied households – making that number naturally higher, because it includes more households.
"While significant gaps exist for both categories at lower income levels, there is a surplus of affordable and available housing for renters at higher incomes," the report says. "There is a gap for owner-occupied units at all income levels up to 120% of county median, and the gap is greater than for renters at all income levels."
Of the 40,000-unit gap estimated for all of Hamilton County, the LISC report identifies about 23% as owner-occupied households.
Considering these distinctions, there's likely not much difference between the 25,000 estimate in 2014 and the 19,000 estimate in 2017.
RELATED: Understanding Issue 3, The Affordable Housing Charter Amendment On The May Ballot
What DO we know about housing affordability over time?
The NLIHC has published The Gap report since 2016. The reports estimate a gap for extremely low-income renters in the 15-county metro area, each based on a single year of Census data from the American Community Survey.
The gap peaked in 2016 with 51,599-unit deficit, and the lowest reported deficit was 45,000 units in 2017.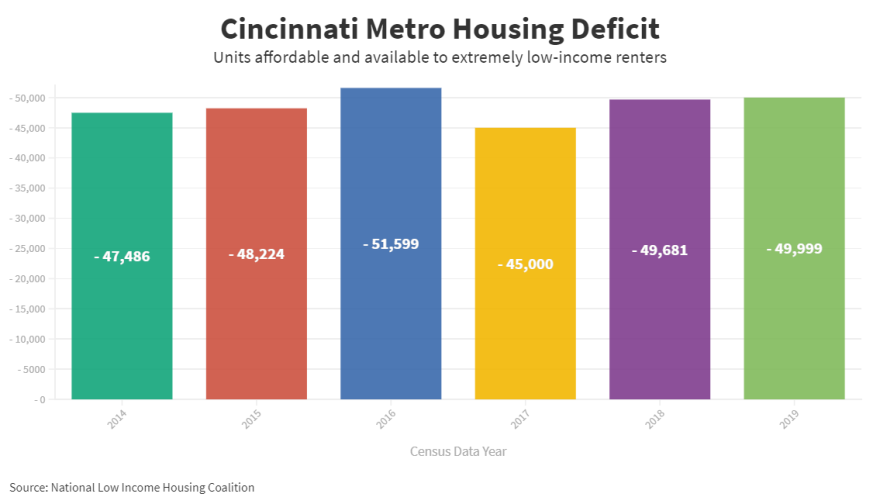 Is there a case for a regional housing approach?
Prof. Michael Jones' estimate of an 8,000-unit gap is based primarily on the idea that housing is a regional responsibility. He says 16.7% of all housing units in the Cincinnati metro area are in the city of Cincinnati, and therefore only 16.7% of the affordability gap is in the city of Cincinnati.
"What we're doing is when we make housing affordable, we're saying that the household doesn't spend more than 30% of their income on housing. And once that condition is satisfied, where would they choose to live?" Jones said. "So if you don't have to spend any more than 30%, you can live in Cincinnati, but you can also live close to work in West Chester, maybe close to school in Covington. And so you have all the options available to you."
And, Jones says, it may be more cost effective to build affordable housing outside the city.
RELATED: Some Cincinnati Officials Doubt Much-Cited Affordable Housing Gap
"If the city of Cincinnati is talking about building 20,000 units in the city, that's really going to drive up the cost here in the city itself. It might actually be much more cost effective to talk about providing those housing units outside the city limits."
Dan Threet, research analyst for NLIHC, says he agrees with Jones that housing affordability is a regional crisis.
"It's important that there be regional coordination and cooperation — affordable housing for the lowest income renters is needed everywhere," Threet said. "And if we were to create affordable homes only in central cities, the lowest income earners would have few choices about where to live."
But, Threet says, the need for regional planning and cooperation is "not directly material to this calculation."
Affordable Housing Gap
Infogram

Kristen Baker, executive director of LISC Greater Cincinnati, also agrees housing is regional, but LISC focused their 2017 report on Hamilton County for a reason.
"The jurisdictions in Hamilton County and the city of Cincinnati are places that this conversation is growing," Baker said. "And so we want to really keep our focus on the places where we actually can have some opportunity for partnership and collaboration and where there are some seeds of that starting between different jurisdictions."
How else can we determine housing affordability?
The housing unit gap is calculated with the understanding that a household should pay no more than 30% of income on housing, which includes rent or mortgage plus utilities.
Another way to look at housing affordability is to identify how many households are cost burdened (spending more than 30% of income on housing) or severely cost burdened (spending more than 50% of income on housing).
Households at any income level can be cost burdened, but the percentage of households that are cost burdened is much higher at moderate and lower incomes.
HUD data from 2013 to 2017 shows about 55% of the roughly 40,000 extremely low income households in Cincinnati are severely cost burdened; another 19% are cost burdened.
Households with above median income are the largest income group in the city; about 3% are cost burdened, and less than 1% are severely cost burdened.
A higher percentage of owner-occupied households at all income levels are cost burdened compared to renter households.
RELATED: Cincinnati Plans $34 Million Loan Pool To Finance Affordable Housing
How does Issue 3 define affordability?
The Issue 3 charter amendment determines income levels using Median Household Income (MHI) for Hamilton County, which is lower than the median income for the entire metro area.
All of the money from the Issue 3-defined trust fund must be spent on housing that is affordable to households making 60% or less MHI. And at least half of the funds must be spent on housing that is affordable to households making 30% or less MHI.