As a new strain of coronavirus (COVID-19) swept through the world in 2020, preparedness plans, masking policies and more public policy changed just as quickly. WVXU has covered the pandemic's impact on the Tri-State from the very beginning, when on March 3, 2020, Ohio Gov. Mike DeWine barred spectators from attending the Arnold Sports Festival in Columbus over concerns about the virus, even though Ohio had yet to confirm a single case of COVID-19.
Local Conservatives Make Vaccine Push To Republicans Reluctant To Get The Shot
With some of the highest risk age groups reaching 80% vaccinated, Hamilton County officials are urging everyone to stop waiting and get a COVID-19 shot now.
"We have made a ton of progress and if you've been waiting to make sure that those that need the vaccine the most have had it, at this point in time they have," says Greg Kesterman, Hamilton County Health commissioner.
There are open appointments at clinics across the Tri-State, including walk-in openings with no appointment necessary. You can find location information here.
Officials acknowledge some people remain wary of getting vaccinated because they want more information about safety. You can find vaccine safety information from the Centers for Disease Control and Prevention here. You can also consult with your primary care physician.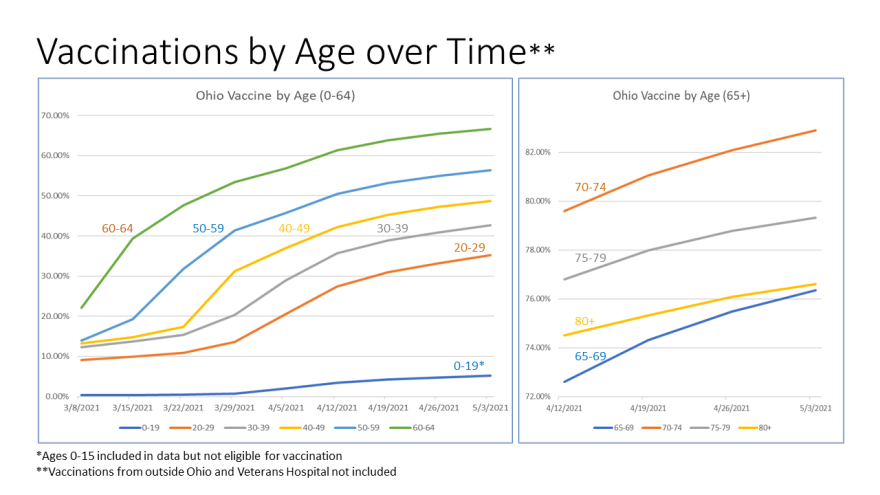 Polls show Republicans and people who lean conservative remain the most reluctant to get vaccinated, especially those in the 18 to 39 and 40 to 64 age groups. Men also lag women in vaccinations rates. Hamilton County is trying to reach those hesitant demographics by having people like outspoken conservative radio host Bill Cunningham talk about why he got vaccinated.
Cunningham says his listeners, which he says skew white and politically conservative, need to hear vaccination messages from people like him or other Republicans. To that end, several public service announcements encouraging people to get the vaccine were released this week featuring members of the GOP Doctors Caucus, which is led by Ohio Republican Rep. Brad Wenstrup.
More than 340,000 people county-wide are vaccinated. That's about 42% of the population, not including those under 16 years of age who are not yet eligible.
Hamilton County Public Health is making plans to offer additional clinics within local schools as the U.S. Food and Drug Administrationis expected to authorize the Pfizer-BioNTech COVID-19 vaccine for children 12 to 15 years old as early as next week.
"We continue to do vaccination work for those that are 16 and older in school environments," Kesterman says. "Depending on when that authorization comes some of the schools may already be out of session. We will continue to hold Pfizer clinics at various locations around the county to make sure that it's accessible, and if there are kids that haven't been vaccinated when school starts back up, Public Health and many other partners will still be there to make sure that they have access."
Hamilton County dropped below the 100 case per day threshold during the past seven days. It's currently at 81 cases per day. The county is "red" with a high incidence indicator on the state's public health advisory map, Kesterman points out if the daily case number remains below 100 for another week, the county should drop to orange.