For more than 30 years, John Kiesewetter has been the source for information about all things in local media – comings and goings, local people appearing on the big or small screen, special programs, and much more. Local media is still his beat and he's bringing his interest, curiosity, contacts and unique style to Cincinnati Public Radio and 91.7 WVXU. Contact John at johnkiese@yahoo.com.
Happy 50th Birthday To WVXU!
To me, it seems like WVXU has always been around. And for good reason.
WVXU was five years old when I started my career at the Enquirer in 1975, fresh out of Ohio University. That was the year the Xavier University station could finally be heard – bumping up its power to 65 watts from its original 10 watts, which only covered a few square miles around the Evanston campus.
I had no idea that it would grow into a regional network, produce national programming, train dozens of Cincinnati broadcasters, and transform into a NPR news and information powerhouse after the XU sale to Cincinnati Public Radio in 2005 – or become my professional home as newspapers withered, allowing me to continue doing what I love to do, writing about local media and broadcasting.
I had no clue back then that WVXU would be the most eclectic, innovative and unusual station I would write about, or make my lifelong dream come true with the revival of O'Toole From Moscow, a 1955 Rod Serling Cold War era script about a Russian embassy security officer playing outfield for the Cincinnati Reds.
WVXU debuted on the public airwaves in 1970, after 13 years as a student-run closed circuit station heard in campus buildings and dormitories. In 1964, WCXU ("Cincinnati's Xavier University") moved from Albers Hall to the Alter Hall basement. The transition to over-the-air in 1970 came with new call letters standing for the "Voice of Xavier University." WCXU was not available because the FM station on 105.1 called WCXL (now WUBE-FM) protested that WCXU would confuse listeners.
The game changer came in June 1976, when Xavier hired Dr. James King from the University of Cincinnati's College-Conservatory of Music faculty to be WVXU general manager and a XU faculty member. The station increased its power that year to 6,390 watts, too.
Xavier's Fr. Lawrence Flynn had a tough time convincing King to leave CCM.
"I was absolutely turned off by this pitiful little radio station with studios that barely worked," King tells me. "The equipment was ancient and mostly broken. The station had virtually no power, no format, virtually no direction, and little money."
""When Swing Was King" also premiered in 1976, after Pete Rightmire convinced King to let him bring his records from home and fill Saturday afternoons with big band tunes. The program continues today as Swing with Bill Cartwright 10 p.m. Saturdays.
Thanks to fellow Cincinnati public radio station WGUC, the Xavier station joined National Public Radio in time to carry the premiere of Bob Edwards' Morning Edition on Nov. 5, 1979. Then-WGUC manager Al Hulsen helped arrange a Cincinnati outlet for Morning Edition because he knew WGUC listeners would revolt if he moved Paul Laumann's popular morning Kitchen Koncert to air Edwards' new show.
In 1985, when I took over the TV column, King and engineer Jay Crawford were in the middle of a one-year job wiring the old U.S. Shoe building, 1648 Herald Ave., for WVXU. Moving into the spacious 12,000-square foot building from the cramped Alter Hall basement in 1986 allowed WVXU to grow in unimaginable ways.
The station's format evolved into a little bit of everything from Count Basie to cooking shows: Big band, rock, jazz, Dixieland, adult album alternative and New Age music; local car, financial, food, health, real estate and antiquing call-in shows; old-time radio comedies and dramas; Morning Edition, NPR's Fresh Air and Garrison Keillor's A Prairie Home Companion.
WVXU sponsored jazz festivals; combined with WXIX-TV in 1988 to produce A Christmas Carol: A Radio Drama at Emery Theater, which aired for years during the holidays on Channel 19 and WVXU-FM; and built repeater stations in Chillicothe, West Union, Mt. Gilead and New Paris, Ohio; Maysville, Ky.; Crawfordsville, Ind.; and Rogers City and Manistee, Mich. I wish I had a photo of the WVXU conference room map with lights marking the X-Star Radio Network stations.
In 1990, WVXU went national. The Riders In The Sky comedy cowboys brought their act to Emery Theater for WVXU to tape Riders Radio Theater shows heard on up to 160 stations.
Then came the unprecedented radio history projects, which I wrote lots about before (soliciting old recordings) and after they were completed: The Cincinnati Radio: The War Years (1941-1945) compiled Cincinnati radio performances by Doris Day, Andy Williams, Rosemary and Betty Clooney and others (1991); Cincinnati Radio: The Nation's Station (1921-1941) had rare local broadcasts by Doris Day, Red Skelton, the Mills Brothers, Red Barber, Fats Waller and others (2001); the Red Barber: From The Catbird Seat (1993) and Ruth Lyons' Let Me Entertain You (1997) documentaries; and a collections of WLW-AM's Moon River overnight show (1992) and Ruth Lyons' Christmas songs (1995). You can read more about these programs and other WVXU milestones in the History of WVXU timelineI helped assemble.
The pinnacle was D-Day and 50 Years, a 12-hour production of what radio listeners heard on June 6, 1944, when the Allied liberation of Europe began. It won a prestigious George Foster Peabody Award, the broadcasting equivalent to the Pulitzer Prize.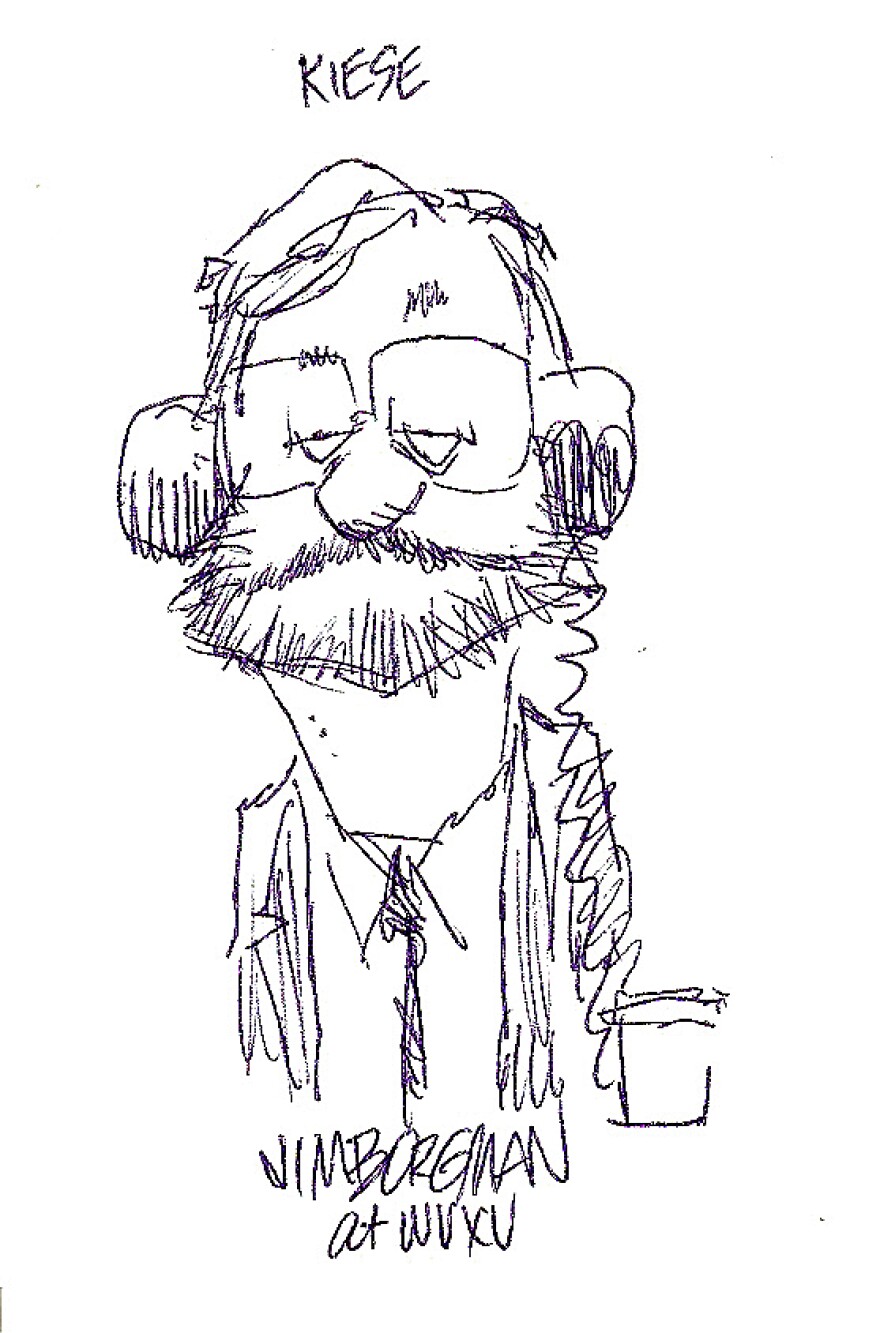 In the '90s, I was frequently asked to appear on WVXU's pledge drives. Often I'd be on with Enquirer cartoonist Jim Borgman, who generously provided original illustrations for WVXU's unique pledge premiums consisting of coins, cartoons and coffee mugs. Borgman also sketched me at the mic in 1992, which I've used several times on my blog. I met Oscar Treadwell, Mike Martini, George Zahn and many more of the station's personalities, but what impressed my dad most was meeting Charley Carey, the longtime Xavier publicist who hosted The Story of Jazz. The weekly Dixieland program was Dad's favorite show.
The eclectic program mix – if you don't like the show, tune in next hour for something completely different – was the one constant at WVXU. In the early days, the station broadcast Xavier basketball when no commercial station was interested.
Moeller High School graduate Paul Keels, voice of the Ohio State Buckeyes, got his start doing Xavier basketball in the late 1970s with Dave Piontek. In the '90s, WVXU also broadcast the Mighty Ducks minor-league hockey and high school basketball and football games. WVXU's sports voices also included Tom Eiser, Xavier associate athletic director, and Tom Stevens, Tom Donnelly and WDTN-TV's Neil Konerman.
A friend once described WVXU to me as "the crazy aunt in the attic, a character from a Thurber story" which often made him "cringe at their parochialism and cornpone tastes." The revolving door programming provided opportunities to dozens of young Cincinnati broadcasters.
Newscasts featured Brian Combs, Bill Tonnis, Bridget Doherty, Chuck Ingram, Ann Alexander, Dave Allen, Charles Compton, Michael Flannery, Mark Heyne, Steve Hirschberg, Chuck Ingram, Lorna Jordan, Cheri Lawson, Claire Wagner, Joyce Wise, Martini and current WVXU news anchor Ann Thompson.
Music hosts included Robyn Carey Allgeyer, Ron Esposito, Bob Nave, Susan Gabbard, Mark Magistrelli, Anne Wagner, Ann Oliver, Mark Tipton, Russ Read, Guy Hempel, Larry Holt, Frank Tafuri, Ted Tegenkamp, Chris Wagner, Louie Bourgeois, Andy Curran and current WVXU producer Lee Hay.
Brian Rhodes, Dusty's son, did the Nightwaves heavy metal show later called Saturday Night Loud. WVXU rock listeners also heard Randi Douglas and future Reds pregame/postgame host Dave "Yiddy" Armbruster, a UC student who knew WVXU rock programmer Rick Koch. "It took them two years to figure out I didn't go to school there," Armbruster says.
Among the homegrown talk show experts were Nathan Bachrach, Ed Finke, Chris DeSimio, Steve Overbeck, Larry Ashcraft, John Hingsbergen, Jimmy Gherardi, Julie Isphording, Frank Farmer Loomis, Father Ben Urmston, Scott Aiken, Dr. Bob Beiderman, Vena Jones-Cox, Frank Farmer Loomis and Gary Burbank sidekick Kevin "Doc" Wolfe.
WVXU's noteworthy alumni also include engineers Jay Adrick and Mike Geis; Learfield sports marketing executive Tom Stevens; former WSAI-AM and WKRC-TV newsman Harry Traynor; video producer Kathy Myers; humorist Jerry Galvin; movie critic Larry Thomas; and author Tom Flynn.
In 2005, everything changed. Xavier University sold the station for $15 million to Cincinnati Public Radio. King quit a few months earlier, so he didn't have to dismantle the network he assembled. I was there Sunday night, Aug. 21, when staffers past and present gathered for the final two-hour broadcast.
Cincinnati Public Radio removed All Things Considered and Car Talk from classical music WGUC, and created the NPR news and talk format heard today. It was a win-win for classical music lovers and NRP fans. The station was so successful that it paid off its $15-million loan this year, five years ahead of schedule.
The new WVXU grew in different ways. It added digital HD Radio broadcasts in 2007, and later put the local Radio Artifact AAA music on WVXU HD2. Miami University ceased programming WMUB-FM in 2009, and signed an agreement for WVXU to simulcast on 88.5 mHz. Cincinnati Edition expanded from a weekend news magazine to a live weekday talk show in 2013. WVXU's first original podcast, Looking Up with Dean Regas and Anna Hayman, debuted in 2017.
News director Maryanne Zeleznik, hired from WNKU-FM for the WVXU reboot in 2005, was honored with the Leo C. Lee award in 2010 from the Public Radio News Directors Inc. for "lasting commitment to public radio journalism." WVXU won a regional Edward R. Murrow Award for overall excellence and for its newscast in 2018 from the Radio Television Digital News Association.
The news staff added politics reporter Howard Wilkinson when he took an Enquirer buy-out in 2012. I came aboard in 2015 after the Enquirer eliminated the TV/Media beat. It's been a perfect fit for me.
Thanks to General Manager Richard Eiswerth, I've been able to do what I love to do on my WVXU blog; plus do on-air interviews with everyone from Jason Alexander and Rob Lowe to Marty Brennaman and Rob Braun; and specials with Lee Hay for the 50th anniversary of the Beatles' Crosley Field concert, 40th anniversary of the Beverly Hills Supper Club fire and Cincinnati Music Festival.
And WVXU made my dream come true by broadcasting a radio adaptation of Serling's 1955 O'Toole From Moscow,a one-hour comedy recorded with CCM students, Anne Serling (Rod's daughter) and Reds organist John Schutte under the direction of CCM's Richard Hess and engineer Josh Elstro.
WVXU had come full circle – from broadcasting Jack Benny, Groucho Marx, X-1 and other old radio shows to a "new" radio comedy from 1955. I never thought I could pull it off.
I never dreamed I'd be working at WVXU.
I couldn't be happier.
John Kiesewetter's reporting is independent. WVXU only edits his stories for style and grammar.