For 50 years, Howard Wilkinson has been covering the campaigns, personalities, scandals, and business of politics on a local, state and national level. He's interviewed mayors, council members, county commissioners, governors, senators, and representatives. With so many years covering so many politicians, there must be stories to tell, right?
Smokin' With Speaker Boehner
Ed. note: Tales from the Trail is a column that will take you behind the scenes of politics to see some of the funny, and sometimes outright bizarre things that happen on the campaign trail, based on Howard Wilkinson's recollections of 43 years of covering politics.
I am a recovering smoker. A recovering heavy smoker.
I smoked day and night; and nearly everything I did during the course of a day triggered the urge to light up – getting up in the morning, having my first cup of coffee, driving to work, taking a break from writing.
Everything.
But I had my last cigarette on the morning of Sunday, Jan. 11, 2015.
I am not asking for applause here. It was hard, but worth it. And I appreciated all the encouragement from friends and family.
But, as a politics reporter, there is one day in particular when I was very glad I was a smoker, because my nasty habit made it possible for me to score a very good scoop.
That day was Wednesday, Jan. 5, 2011 – the day John Boehner, born in Reading and elected from West Chester in Butler County, was sworn in as the nation's 53rd Speaker of the House.
I was working for the Enquirer at the time. The powers-that-be knew that having a local congressman chosen as Speaker of the House – second in the line of succession to the presidency – was a big deal; it hadn't happened since Cincinnati's Nicholas Longworth was chosen speaker in Dec. 1925.
Photographer Michael E. Keating and I were credentialed through the House Press Gallery to cover the election of Boehner as speaker and the opening of the 113th Congress.
We got there a day or two early to take care of credentialing and meet with members of Boehner's staff about what kind of access the two of us – reporter and photographer from Boehner's hometown newspaper – would have on the day of his swearing in.
As it turned out, we had very good access.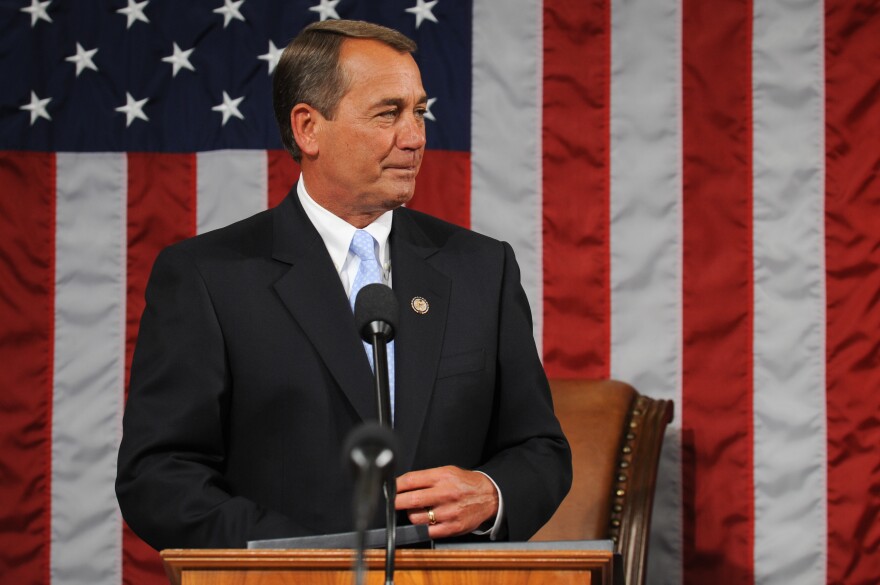 On the morning of Jan. 5, a few hours before the vote for speaker occurred and he was handed the gavel by the outgoing speaker, Nancy Pelosi, Boehner held a reception for his family in the huge suite of offices that are on the west side of the Capitol.
In addition to his wife Debbie and his two daughters, Lindsay and Tricia, Boehner has 11 brothers and sisters. They were all there that morning, along with their spouses and their children. And dozens of Boehner aunts and uncles and cousins from back home in Ohio.
It was a mob scene. And each and every one of them wanted to have his or her picture taken with their famous relative outside the door with the big sign saying Speaker of the House.
Keating and I were allowed in the hall outside the offices to watch this parade of cousins and various kinfolk have their pictures taken. It was taking a long time; and I could see that Boehner was getting a bit tired of the whole thing. Not that he doesn't love his family – but this was back-breaking and incredibly boring.
I knew one other thing – John Boehner was (and is) a heavy smoker, a chain smoker who can't go for long without a cigarette.
I knew this because I had been with him at countless campaign events and political fundraisers and he and I would always end up out on the sidewalk – sometimes in snow and/or rain – to suck down a cigarette. Or two.
That's how I had most of my conversations with Boehner over the years.
That's how I got some pretty decent politics stories out of the man.
That morning, as he posed for photo after photo, Boehner kept glancing over at me across the hall.
Finally, he motioned for me to come over.
I need a smoke, NOW, he said. Come on in the office with me.
We went in through a conference room with a large oaken table and then into the speaker's inner sanctum, his actual office.
The office with the glass doors that looked out on to what is surely the most beautiful view of the National Mall, from the Capitol steps, to the monuments, and, in the distance, to Arlington National Cemetery.
It is truly a breathtaking view.
There were two huge wing-back chairs in front of the doors, with a small table in between.
We both sat down, while various Boehner relatives scurried around, looking at the paintings on the walls and the décor. Keating had his camera, firing away at Boehner, me, and everything else in sight.
Boehner told an aide to find an ashtray. The aide quickly returned with a leaded crystal ashtray that was not only massive but no doubt very expensive. He set it down on the table between us.
The speaker-to-be reached into his pocket and pulled out a smoke; I did the same.
Smoking in the U.S. Capitol? Yes, it was allowed – but only in members' offices. And I don't think anyone was going to tell the new speaker he couldn't do that.
OK, on the record, Boehner said, fire away.
We sat there for perhaps 20 to 25 minutes, with me blurting out questions and Boehner answering, as I scribbled away in my reporter's notebook.
He talked about his new rules package, which would require, among other things, specific constitutional justification for every piece of new legislation.
He talked about his relationship with President Obama, saying the two of them got along fine personally, but simply had deep policy differences.
He said that his new GOP majority in the House would likely vote the next week to repeal Obamacare and that the Senate, still dominated by Democrats, would balk at that. He was right.
I can't control the whole legislative process, Boehner said, all I can control is what happens over here on this side.
There was more than a little irony in that comment, because, in the end, Boehner was forced out of the speakership by a revolt among the most conservative members of the GOP caucus, whom he most certainly could not control.
We talked and chain-smoked until he realized it was getting close to the time when he had to wrap up the family reception and get to the floor of the House to be elected speaker.
Gotta run, he said, See you around. Hope you got a story out of that.
You'd better believe I got a story out of that.
I knew perfectly well that I was the only reporter on Capitol Hill or anywhere else who would get an interview with Boehner on the day of his swearing-in. His staff had made it clear that Boehner would be granting no interviews.
Unless, that is, he needed a smoke and I was handy.
I scrambled to write a story. For some reason, I couldn't get a wifi signal inside the building, so I ran outside into the old 19th century carriage entrance on the House side of the Capitol, set my laptop up on a wall that was about chest-high, and, standing up, started banging out a Boehner interview story at somewhere close to the speed of light.
I finished; I filed; and within minutes, the story was up on the Enquirer website.
A little while later, I went into the House Press Gallery, where there were some congressional reporters grumbling that they couldn't get Boehner to talk, or even hold a press conference.
"I got him,'' I said, coolly. "Interviewed him in his office. My story's on our web site."
One of the journalists asked me how I did it.
"I had a secret weapon,'' I said, pulling out my pack of cigarettes and tossing them on a desk. "Boehner's a sucker for a fellow smoker. Maybe you guys should try it."