City looking at possibility of asbestos clean-up for collapsed downtown building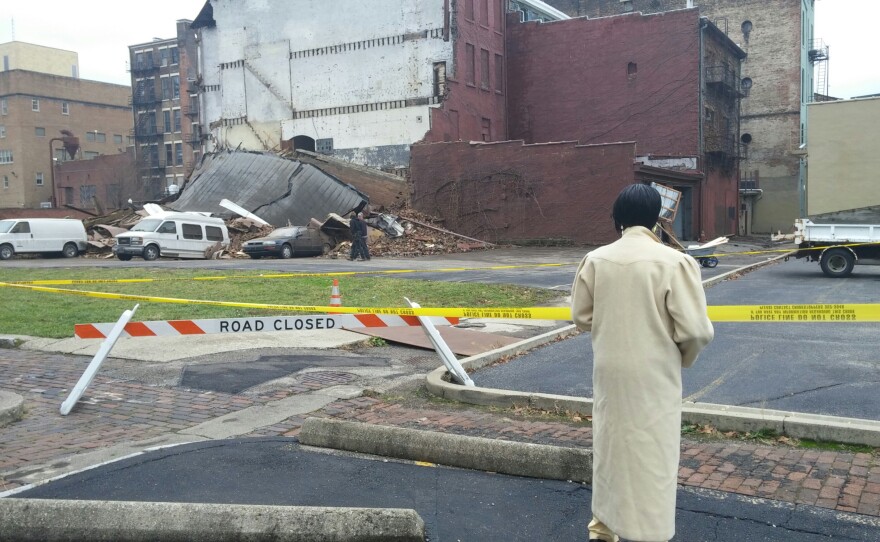 Collapsed building at 128 West Court Street downtown
Bill Rinehart
Collapsed building
Bill Rinehart
Collapsed building
Bill Rinhart
Cincinnati's building department took samples of "suspect asbestos containing materials" Sunday from the rubble of a three-story building on West Court Street that collapsed Saturday night.
Meanshile, West Court Street between Elm and Race streets remained closed Monday while crews continue to clean up after a three-story building collapsed Friday night.
Rocky Merz, the city's director of communications, said the materials are being tested to see if asbestos was present in the building, which was built in 1865.
Depending on the method of clean-up, it could take from several days to several weeks to clean up the site, Merz said.
Police were called about 9:30 p.m. Saturday to a building near the corner of Court and Elm that had partially collapsed. The building was vacant and no one was injured, but two cars parked in front of the building were heavily damaged, Merz said.
A Duke Energy crew was dispatched to the collapsed building at 128 West Court Street Friday night to secure gas and electric utilities. City building inspectors also responded to assess the condition of surrounding buildings. They were deemed to be safe, Merz said. As of yet, the cause of the collapse has not been determined.
Merz said there is no history of problems with the structure. The owner of the building, Historic Limited Liability Co., which bought the building in June, was not required to have a vacant building license, Merz said.
The owner would be ordered to obtain permits, complete any restoration of the remaining structure, clean up the debris and restore the site to a safe condition, according to Merz. The owner of the building would be responsible for the cost of clean-up.
The building is the former site of the Julius Rigacci Box Company, which went out of business about a year ago.