Built To Withstand Anything: Hamilton County Courthouse Celebrates 100 Years
Bystanders even crawled out onto ledges to see dedication proceedings for the new Hamilton County Courthouse on Oct. 18, 1919
Courtesy of Public Library of Cincinnati and Hamilton County. Genealogy and Local History Department
When the sixth Hamilton County Courthouse was built, Central Parkway was still the Miami & Erie Canal.
Courtesy of Public Library of Cincinnati and Hamilton County. Genealogy and Local History Department
People filled the plaza, crowded the street and perched on a third story ledge of the Hamilton County Courthouse as the newly constructed building was dedicated Oct. 18, 1919. While you can't climb out the windows these days, Judge Melba Marsh is still hoping for a large crowd to mark the building's centennial.
"I couldn't understand why on its 100th birthday we would just let the day go by," Marsh exclaims. She's the force behind Friday's centennial celebrations, which include speeches, presentations from school children, building tours and a public luncheon.
Marsh became enamored with the Renaissance Revival style building as a child passing the building daily with her mother.
"And I say, 'What's in that building?' And she said, 'Justice. You can find justice there.' And I say, 'Really? WOW!' "
Soon Marsh was exploring the halls - security was looser in those days - in a Humphrey Bogart-style hat, carrying a suitcase as a makeshift briefcase and looking for "Justice." "When you find it, let me know," she recalls a guard telling her as she'd slip into courtrooms to watch proceedings, in awe of the attorneys.
Marsh says the courthouse touches the lives of everyone in Hamilton County. Birth records were once housed there; death records are there; deeds and other records, too.
"This is an opportunity not to come in as witness, not to come in as a party to a case, not to be part of a litigation, but just to come in and say 'Hey, this is a really cool building and it's 100 years old.' "
Judge Josh Berkowitz agrees, calling the courthouse a hidden treasure that's open to the public. He's part of the centennial committee that's been meeting for more than year to plan Friday's 11:30 a.m. celebration. (A free public luncheon and tours will follow.)
"This is really a beautiful architectural structure. Many of the courtrooms in the Common Pleas Court have original art, original fixtures, marble. No expense was spared when this building was opened."
The Hamilton County Law Library on the sixth floor is Berkowitz's favorite part of the building. It has soaring, rounded ceilings, granite columns, and at least one book that's very important to Berkowitz. It turns out the family Bible got left behind on the day of his swearing in.
"We went to the Law Library and asked if they had a Bible we could use and it just so happened I ended up taking the oath of office on the very same Bible that William Howard Taft did when he was sworn in as a judge of the Cincinnati Superior Court in 1887. To be a part of that history in the building and the library, it really is a tremendous honor."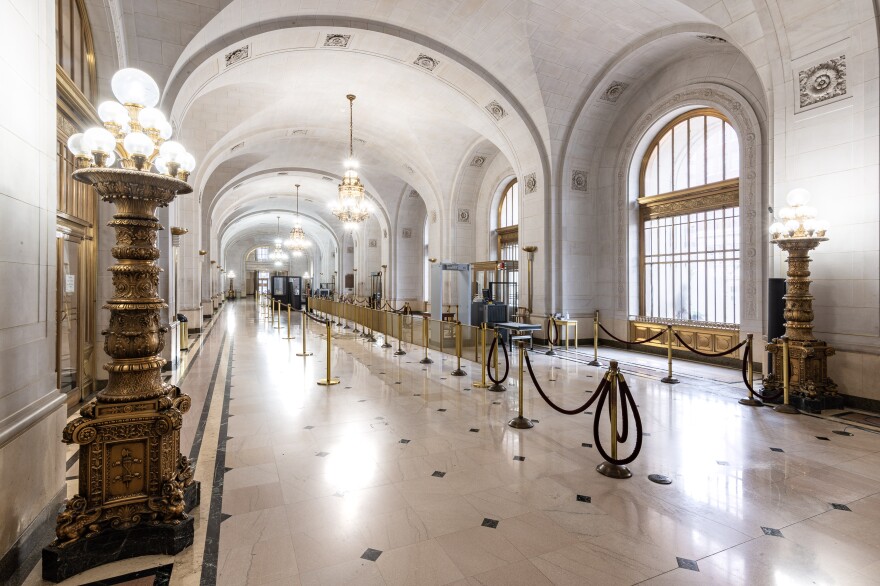 History
The current courthouse is Hamilton County's sixth. The first was a log cabin. The second was accidentally burned down by soldiers in the War of 1812 who were using it for a barracks. The third was decimated when a fire at a nearby pork facility spread, leaving proceedings to be held briefly in a pork packing plant. The fourth was burned to the ground during the 1884 riots, and the fifth was a temporary building while plans were drawn up for the sixth one, which still stands today.
"Because so many of the courthouses before this one burned, this one was built to be fireproof," says Vanessa Seeger, outreach librarian for the Hamilton County Law Library. "And because the fourth courthouse was burned in a riot, it was built to withstand disturbances as well."
Even the plaster in the walls uses horse hair because it's a fire retardant material, Seeger says, adding, "they were actually building a terracotta wall and they noticed the mortar was not fireproof so they tore the whole wall down and started over again."
If you look closely, you'll notice long trenches along the outside in places.
"This building was constructed like a fortress," Marsh says. "They had good reasons - they didn't want to have another riot. Nobody could climb onto the building. There's a huge moat around the building. It isn't filled with water, it's filled with air, but it serves the same purpose. You can't scale the walls of this building easily."
The courthouse was designed by Rankin, Kellogg & Crane Architects, who were responsible for a slew of federal buildings around the country, including, most notably, the U.S. Department of Agriculture Building in Washington, D.C. It's constructed of steel, New Hampshire granite and Bedford limestone, and cost $3,022,000. That's roughly $42.4 million in 2019 dollars, according to Seeger.
The groundbreaking occurred April 3, 1915 and former President William Howard Taft laid the cornerstone on Oct. 1, 1915. The dedication was held Oct. 18, 1919, with a keynote address by U.S. Senator Warren G. Harding who would go on to become president.
Harding's grand nephew, Warren G. Harding III, is scheduled to offer a few words during the 2019 centennial ceremony.
Seeger notes the 1919 dedication was originally slated to take place on Oct. 4 but the date was pushed back as the Cincinnati Reds were playing in the World Series.
"Several state officials were coming in to watch the Reds games but they couldn't get hotel rooms because everyone else was too. One of the judges at the time let them stay in the jail, so the first inmates of the jail were actually state officials."
When it opened, the building housed all county departments including the coroner's office in the basement and the jail on the upper floors. The jail is closed now and largely used for storage, though the sheriff's office still utilizes some of it for holding prisoners awaiting hearings or meeting with their attorneys.
Another Locked Safe
Like any good, old building, the courthouse has its share of ghost stories. A former employee taps on windows and security guards, Seeger reports, don't like going into the law library alone at night because they say they can hear books falling off shelves and pages being turned.
There's also a mystery surrounding a large, locked vault on the fourth floor.
"No one has any idea what it was used for," Seeger laments. "No one knows if anything is in it because no one has the combination. We talked to the Sheriff's Office and they think it may have once been an evidence vault but they really don't know."
WVXU contacted Steward Iron Works in Erlanger whose name is on one of the vault doors, but the company has no records of the work.