For more than 30 years, John Kiesewetter has been the source for information about all things in local media – comings and goings, local people appearing on the big or small screen, special programs, and much more. Local media is still his beat and he's bringing his interest, curiosity, contacts and unique style to Cincinnati Public Radio and 91.7 WVXU. Contact John at johnkiese@yahoo.com.
Everything But The House Waits Word On HGTV Renewal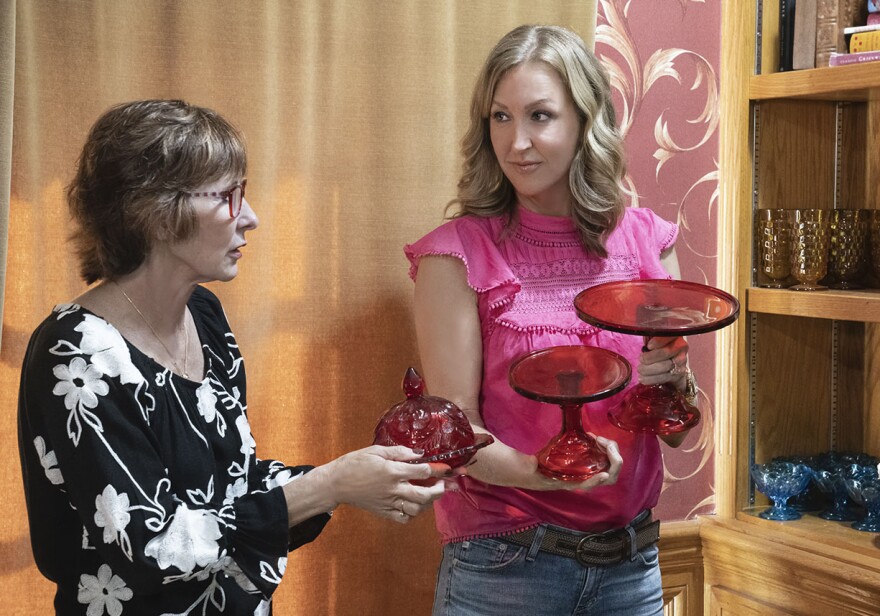 Jacquie Denny doesn't need to see TV ratings to know people are watching HGTV's Everything But The House featuring her Blue Ash online auction company.
"I'm starting to get recognized," says Denny, the Everything But The House co-founder who has appeared in every episode with host Lara Spencer since the March 19 premiere.
"People say, 'Are you Jacquie from HGTV?' And everybody says, 'I love the show!' "
The seventh and final episode taped last year airs 9 p.m. Friday, April 16. HGTV executives will decide "in a few weeks" whether to order more shows for a second season, says Loren Ruch, HGTV senior vice president for programming and development.
HGTV and Everything But The House executives are very satisfied with the show, which features Spencer, Denny and EBTH staffers helping families declutter, downsize, distribute or monetize items in their homes. The cross between American Pickers and Antiques Roadshow has netted sellers $18,000 to $61,000 from online auctions.
"We are very pleased with Everything But the House," Ruch says. "It's a very different type of show for us, and we especially appreciate the unique stories from our homeowners, and the value that can come from heirlooms and nostalgic items."
The seven half-hour episodes have been a great showcase for the second-hand commerce site, Denny says.
"It's made people aware of us, and has allowed us to serve people in other markets," she says. "It's been a good experience all the way around. It's been fun."
EBTH is different from Spencer's Flea Market Flip because viewers get to know the families and learn about their financial goals – a destination wedding, a college fund, an island home, etc. Denny's favorite episode, repeating at 9:30 p.m. Friday, features a Long Island minister needing a refrigerated truck for his food pantry. The show raised – spoiler alert! – enough to buy two refrigerated trucks ($61,658).
"What a blessing to do that for them," Denny says.
Spencer, the Good Morning America co-host, also is executive producer. She got involved with the Cincinnati company in 2017, before Denny and co-founder Brian Graves reacquired it in 2019. The show is produced by High Noon Entertainment, a reality TV heavyweight which makes Fixer Upper, Good Bones, Unwrapped; Cake Boss; Dr. Dee: Alaska Vet; Hurricane Hunters; Southern Survival; Extreme Screams and Extreme Waterparks.
"What a gift for our company to be able to work with HGTV and Lara Spencer," Denny says. "Lara is really the queen of the second-hand space. She really loves what we do at Everything But the House. She could have chosen a million other companies."
On each show, Spencer, Denny and the sellers watch on a tablet screen as bids come in from across the nation on items. Spencer's energy makes what could be mundane TV – people sitting around a table looking at a screen – very compelling. "When she gets excited about something you feel the energy throughout the whole room," Denny says.
Viewers tell Denny they can empathize with folks trying to organize and dispose of their old stuff.
"People tell me, 'I can relate to what they're going through. And I was rooting for that person.' It's a very realistic view of a process which we're going to go through one, two or three times in life," she says.
HGTV doesn't release ratings for its series, but Ruch notes that "this show has been a solid performer for us, and our Friday night viewers seem to enjoy the uniqueness of the series. We typically don't decide on a pick-up until a show has completed its run, so although we are very happy with the show, we haven't made an official decision just yet. We will know more in a few weeks."
If the show is renewed, producers will alert real estate agents and trust officers to find potential families for new episodes to be taped later this year. Denny says she will personally scout the home contents in the casting process.
Families must want to be on television, and willing to have EBTH staffers spend a week evaluating and organizing their possessions before the cameras arrive. Then each episode is taped over several days by a crew of 12-15 people, Denny says.