For more than 30 years, John Kiesewetter has been the source for information about all things in local media – comings and goings, local people appearing on the big or small screen, special programs, and much more. Local media is still his beat and he's bringing his interest, curiosity, contacts and unique style to Cincinnati Public Radio and 91.7 WVXU. Contact John at johnkiese@yahoo.com.
Work Starts On $30 Million Development Under Iconic WLW-AM Tower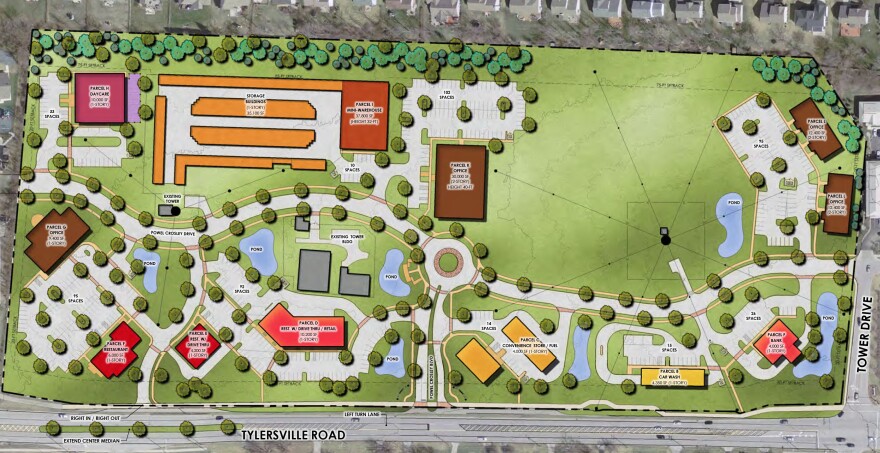 The big ones are gone. The huge trees which lined the driveway to WLW-AM's tower and transmitter were removed this week to make way for a $30 million retail and office complex along Mason's booming Tylersville Road corridor.
Restaurants, office buildings, a public storage business, car wash, daycare, bank and convenience store with gas pumps are planned around the iconic diamond-shaped radio tower and transmitter building on the 27 acres.
WLW-AM, which has promoted itself as "The Big One," will continue to use the historic Blaw-Knox tower, only one of six in the U.S., and the transmitter building which housed the 1934 one-of-a-kind 500,000-watt transmitter. A fence will be built around the iHeartMedia's transmitter building, the adjacent red brick house and a guard tower in the center of the property. A smaller tower to the east of the transmitter, and the big tower, also will be fenced in.
The trees were torn out to build an entrance road called Powel Crosley Boulevard in honor of WLW-AM's founder. The boulevard goes into a roundabout which will enable motorists to go east or west on Powel Crosley Drive to businesses along Tylersville Road. A plaque honoring Crosley also is planned in a small park west of the tower.
"We're trying to show that we're good citizens, not some greedy developers, and we want to honor the legacy of a great Cincinnatian," says George Flynn, a partner in Tower Park Development, LLC and a commercial real estate agent for Lee & Associates. Lee & Associates replaced original developer NAI Bergman in 2018.
By the end of July the roads should be installed, he says. A self storage business and a daycare should open later this year.
Plans for the Tower Park complex have changed in the four years since I wrote about it in August 2017. Now 24 buildings are envisioned for the land, up from 19 buildings shown on the planned unit development drawing originally submitted to the city of Mason.
The newest rendering calls for three restaurants; four office buildings; a convenience store with gas pumps; a mini-warehouse and storage facility; a daycare; a bank; and a car wash. The gas station would be immediately to the right of the entrance.
"We think there's a need in the market" for a gas station, Flynn says.
NIA Bergman's original drawing showed four restaurants; four office buildings; a mini-warehouse and storage facility; a small retail center; and a large recreation use/office space.
The Mason Plannning Commission approved the self storage buildings Tuesday, says Brian Lazor, Mason strategic planning and economic manager.
Tower Park property will be used to widen Tylersville Road and provide turn lanes into Powel Crosley Boulevard. There will also be a curb cut for limited access on the western edge of the property, and a connection to Tower Drive on the east end.
"We're spending $1 million in off-site improvements," Flynn says.
The tall black security fence along Tylersville Road will be removed after more businesses are built, hopefully next year, Flynn says.
"We've been set back by a year. No one wanted to talk to us during the pandemic," he says.
The property has been used by the radio station for nearly 100 years. When Crosley moved the WLW-AM tower from Harrison to 710 Tylersville Road in 1928, the station increased power from 5,000 watts to 50,000 watts, according to Randy Michaels, former Jacor/Clear Channel president who bought WLW-AM in 1983. Clear Channel became iHeartMedia in 2014.
The red brick transmitter building, which still powers the station, contains parts of the unprecedented "super power" 500,000 watt transmitter activated by President Franklin D. Roosevelt on May 2, 1934. With a signal 10 times more powerful than any other U.S. broadcaster, "The Nation's Station" beamed programs coast to coast (and beyond) for five years. After 1939, WLW-AM continued to use "super power" midnight-2 a.m. until 1943.
The WLW-AM tower definitely is "The Big One." Workers connected two pyramid-shaped towers to make the 746-foot structure. Crosley literature in the 1930s boasted that the 135-ton tower was taller than the Washington Monument (558 feet) and Cincinnati's 49-story Carew Tower (574 feet). It's also taller than the 41-story Great American Tower at Queen City Square (660 feet).
The tower is 35-feet wide in the middle, at the WLW call letters, but only 30 inches wide at the base, which rests on ceramic insulator.
WLW-AM will modify the ground system which fans out underground from the tower, says engineer Paul Jellison. The cables, buried about 18 inches, are "as long as the tower is tall," Michaels says.
"The signal will be affected, and access to the ground system will be limited," Michaels says. "WSB-AM (in Atlanta) had that issue when Tower Mall was built around the WSB-AM site years ago."
iHeartMedia, the nation's biggest commercial radio operator, has been selling off real estate to ease its budget problems. The Mason property was sold several years ago to Vertical Bridge Holdings of Boca Raton, Fla., the nation's largest private owner and manager of communication infrastructure, which sold it to Tower Park.