Analysis: Is Bill Seitz Pushing Voter Repression Or Common Sense Reform?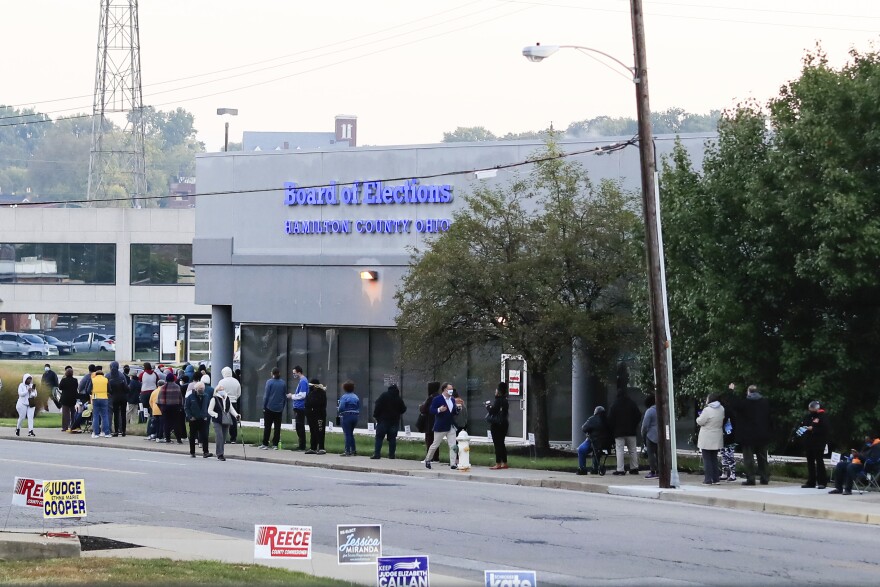 Is Ohio headed to become the new Georgia when it comes to Republican legislators making it harder for Democrats – particularly Black and urban Democrats – to cast ballots?
A group of Democratic state legislators held a virtual press conference early this week saying a bill that will soon be introduced in the Ohio House by two Republicans, State Rep. Bill Seitz of Green Township and State Rep. Sharon Ray of Wadsworth, could put Ohio on a slippery slope toward voter suppression.
Gwen McFarlin, chairwoman of both the Hamilton County Democratic Party and the Hamilton County Board of Elections, joined the Democratic legislators on the Zoom conference.
"In Hamilton County, as chair of the board of elections, we have tried to open up the process and we were blocked at every turn by the Republicans,'' said McFarlin. "We must not let this bill get through. We did a really good job in last year's election and this is why they want new restrictions on casting a ballot.
"They are attempting to do what they did in Georgia,'' McFarlin said of the recent changes in Georgia's voting laws, which many Democrats say are aimed at driving down their vote in state elections.
Seitz, who says the 174-page bill is written and will be submitted to the legislature next week, called the Democrats' complaints "hogwash."
"Every time we try to do a bill on elections, they scream bloody murder,'' Seitz said.
So, what does this bill do? Among other things, the bill:
eliminates one day of the current 28-day period when people can cast their ballots at their county boards of election. Currently, they can vote from 8 a.m. to 2 p.m. on the Monday before Election Day. This bill would eliminate that. The preceding weeks of early voting would be unchanged.
Under the present system, Ohio voters can request a blank absentee ballot be mailed to them, using a paper form that is submitted to the county boards of elections. Under the GOP proposal, Ohio voters would be able to request an absentee ballot online. But they would be required to provide two forms of identification. The Democrats do not at all like requiring additional forms of voter ID.
Current law gives Ohio voters until noon on the Saturday before Election Day to request an absentee ballot. The Republican plan would make the request deadline 10 days before Election Day.
Last year, Ohio Secretary of State Frank LaRose limited the county boards of elections to place one drop box for absentee ballots outside the board offices. Many Ohio counties argued for more secure drop boxes in other locations, but LaRose ignored the pleas. They argued that many large cities and counties in other states have multiple drop boxes, like, for example, the city of Milwaukee, which has a population of about 600,000 and 15 drop boxes throughout the city. The new GOP bill allows boards to place up to three boxes outside their offices, but only for the 10 days prior to Election Day.
The Ohio Secretary of State's office has often sent out blank absentee ballot request forms to all voters with paid return postage. Last year, the Ohio legislature refused to pay for the postage during the general election and LaRose ended up using funds from his office to pay for it. Under the proposed law, the secretary of state would only be able to pre-pay postage if the legislature authorizes it. If you believe that is going to happen, I have a lemon ranch in California I'd like to sell you.
Eliminating the in-person voting at the county boards on the Monday before the election and pushing back the deadline for requesting absentee ballots from three days to 10 days are the provisions that seem to have Democrats convinced this is a Georgia-like bill.
"Allowing people to vote at the board of elections on the Monday before Election Day should not be an issue,'' State Rep. Paula Hicks-Hudson, D-Toledo, said in the Democrats' virtual press conference this week. "The county election officials are professionals. They can manage to have people voting at the board offices while they are preparing for the next day's election. It is not a problem."
In other words, the Democrats believe county election officials in Ohio are able to walk and chew gum at the same time.
But Seitz said eliminating that final day of in-person early voting is something that would help local election officials prepare for people voting the next day at their polling places.
"Election officials all over Ohio have been asking for this for years,'' Seitz said. "I see no reason not to give it to them. This is getting ridiculous. Whatever happened to the idea of voting on Election Day?"
Hicks-Hudson said that every avenue that opens the door for more people to vote needs to be preserved.
"When some people are not able to get off work to vote, that is a tragedy,'' Hicks-Hudson said. "We must allow access. We can not limit it in any way."
With the huge Republican majorities in both the Ohio House and Senate, the GOP is very likely to get its way on its election reform package.
"It's not that big a change,''' Seitz said. "I will tell you the truth – I have been in the Statehouse, House and Senate, for 21 years and the worse thing I have ever done was 15 years ago when I voted for no-excuse absentee voting and the early voting period."