As a new strain of coronavirus (COVID-19) swept through the world in 2020, preparedness plans, masking policies and more public policy changed just as quickly. WVXU has covered the pandemic's impact on the Tri-State from the very beginning, when on March 3, 2020, Ohio Gov. Mike DeWine barred spectators from attending the Arnold Sports Festival in Columbus over concerns about the virus, even though Ohio had yet to confirm a single case of COVID-19.
CPS To Remain In Remote Learning Beyond January 4
Cincinnati Public Schools will not return to blended learning on Jan. 4 as previously stated. Instead, the Board of Education will decide once it reviews community COVID-19 data on Jan. 16.
Board President Carolyn Jones said that's when they'll discuss the long-term plan.
"We're not anticipating coming back until perhaps, at least the earliest, the end of January," Jones said.
CPS returned to remote learning last week due to staffing issues because of COVID-19. At least 280 CPS staff members have tested positive since May. One-hundred-fifty students have also tested positive in the same timeframe.
The school district transitioned to a blended learning model in October. In-person attendance for both students and teachers declined, including student attendance below 70% for one of the student groups.
Students Withdrawing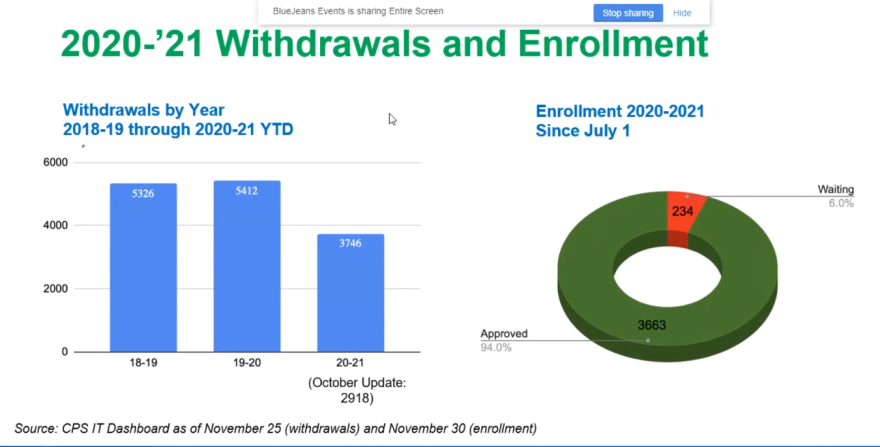 More than 3,700 students this year have withdrawn from Cincinnati Public Schools.
According to data shown during Wednesday's board meeting, 57% of those students transferred to charter or other public schools. Superintendent Laura Mitchell says they're never happy to lose students.
"We believe students left CPS due to the fact that maybe they sought other in-person options five days a week," Mitchell said. "We have been seeing a decline in charter school enrollment in the Cincinnati area over the last several years, so we believe that we can get the students back."
The numbers for this school year are lower than previous years. In 2019-20, 5,412 students withdrew from the district.
Calls To Remove SROs Continue For Third Week
More demands to remove school resource officers from Cincinnati Public Schools were heard during the board meeting Wednesday night. Yousuf Munir is the president of the Young Activists Coalition. He spoke of his experiences with SROs, mainly being threatened with arrest when he attempted to go to a protest at City Hall last year.
"I'm one of the ones that didn't end up being sent to court," Munir said. "And there are plenty of CPS students who aren't so lucky, and the blame for that and the continuation of the school to prison pipeline is on you Superintendent Mitchell and all of the board members who refuse to listen to the indisputable data and to your students."
Criticisms were also levied at the proposed anti-racism policy. Last week, board member Mike Moroski said that once it passes, they could look at how school resource officers, or SROs, are being implemented in the district.