Cincinnati Police Honor Officer Kim On Police Memorial Day
The late morning rain Tuesday did not stop hundreds of police officers and others from gathering on Fountain Square and at the Police Memorial to remember their fallen colleagues on Police Memorial Day.
Hamilton County Municipal Court Judge Heather Russell was the keynote speaker. She said police officers are not superheroes, and she explained using the names of recent CPD officers who've been killed in the line of duty.
"Police Officer Kevin Crayon did not have super strength to stop a car from dragging him to his death. Officers George, Jeters, Pope and Kim did not have invulnerability to men who fired lethal bullets."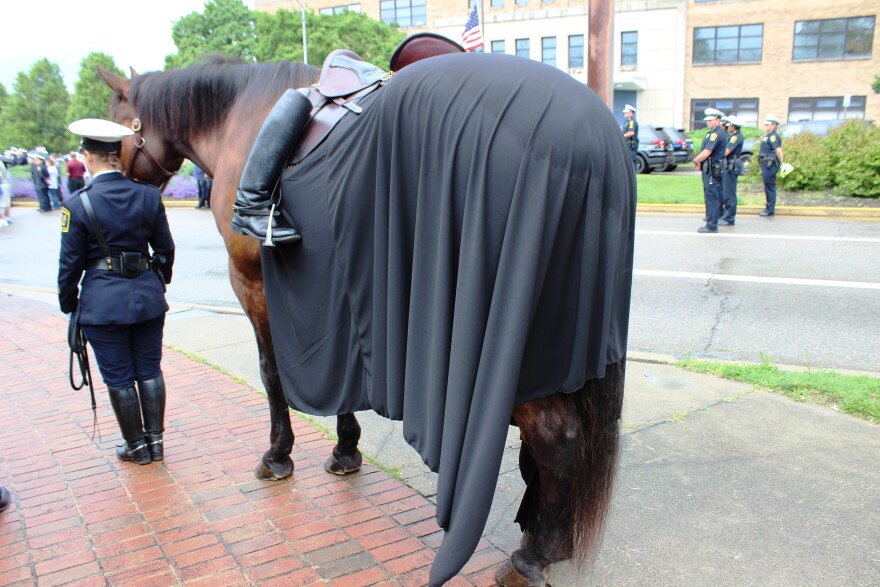 Last June, Officer Sonny Kim was killed in an altercation with a suspect in Madisonville. His widow, Jessica Kim, placed a wreath at the police memorial on Ezzard Charles Drive honoring her husband.
Kim's death was the first for the department since 2000.
Police Chief Eliot Isaac said, "Humbly we are here today to honor the memory, dedication and commitment of our fallen brother Sonny Kim, and the many other heroes who have made the ultimate sacrifice as well."
At the memorial site, Isaac posthumously awarded Kim with the Medal of Valor and the Medal of Personal Sacrifice. "For his extraordinary act of bravery without regard to his own personal safety, Officer Sonny Kim is honored," Isaac said. "(He was) dedicated to his duty, and (gave) the ultimate sacrifice."
Cincinnati Police Honor Officer Kim On Police Memorial Day. Read: https://t.co/BNgbhfr1tP Watch & Listen: pic.twitter.com/8uBStEnIon — 91.7 WVXU (@917wvxu) May 10, 2016