Inside Hamilton County's New Coroner's Office And Crime Lab
In just a few months, construction crews will finish Hamilton County's new coroner's office and crime lab in Blue Ash. The $55 million project replaces an outdated and cramped facility on Eden Avenue in Corryville, next to the UC Medical Center.
"The difference is Dark Ages to current times and maybe somewhat futuristic," said Hamilton County Coroner Dr. Lakshmi Kode Sammarco.
The new, 90,000-square foot facility is located off Reed Hartman Highway, close to I-71.
"We're going to have a fantastic, state-of-the-art facility that's going to be full of natural light and glass, and all the newest equipment for forensic science," Sammarco said.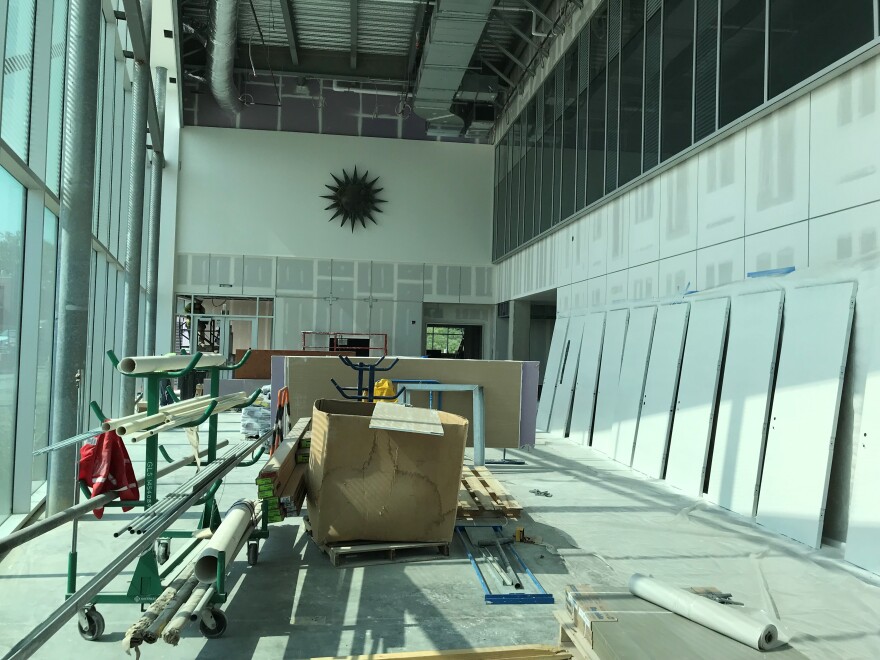 The biggest difference will be more space.
The current coroner's office has two tables to perform autopsies. The new one has a suite with eight.
The old facility has refrigeration capacity for about 40 bodies and it sometimes failed in recent years. The new one has a main unit that can hold 100, and a secondary one could hold 30 to 40 more.
The new office will also have an indoor gun firing range for ballistics testing.
Sammarco said the office will have a better digital x-ray machine and for the first time, a CT scanner.
"What that will enable us to do is take a look inside the body without actually altering the evidence or altering the body," Sammarco said. "And you know, maybe we can determine the cause of death without doing a full autopsy."
Sammarco said the new crime lab and updated technology will make the community safer and help local law enforcement agencies.
"Whether it's a large drug ring or a large car theft ring, we're in the middle of that," Sammarco said. "We're the ones that are processing that evidence. If you talk to a lot of the law enforcement people, they'll tell you that the crime lab is really the linchpin for law enforcement in a region."
Staff will begin moving equipment and supplies to the new Blue Ash facility by the end of the year.
Employees could begin working there in early February 2021. But Sammarco said it will take up to six months for that move to be completed.
"So there will be some validation required for our equipment, certification of our equipment, recalibration as you can imagine, even new pieces that get put in have to go through a process for us to stay accredited," Sammarco said. "We'll have split staff for about six months that will strain us a little bit with the short staff that we have."
Sammarco has been working on the project since being appointed county coroner in 2012.
"If you see the expressions on peoples faces in my office, just knowing what's coming and what they've been dealing with for so many years," Sammarco said. "And just knowing that we are putting our county right there on the map in forensic scene, it's awesome. This is something that has been a long time coming for this county and I think we are going to be doing so much more a regional forensic science facility."
The groundbreaking on the Blue Ash facility took place in Dec. 2017, and discussion on building or renovating a new space for the coroner's office and crime lab started with a study in 2012 that was updated in 2016.
The county issued bonds in 2018 to fund the new facility.