For more than 30 years, John Kiesewetter has been the source for information about all things in local media – comings and goings, local people appearing on the big or small screen, special programs, and much more. Local media is still his beat and he's bringing his interest, curiosity, contacts and unique style to Cincinnati Public Radio and 91.7 WVXU. Contact John at johnkiese@yahoo.com.
Boehner Gets Teary Talking Golf, Politics And Ironing His Own Shirts On The Golf Channel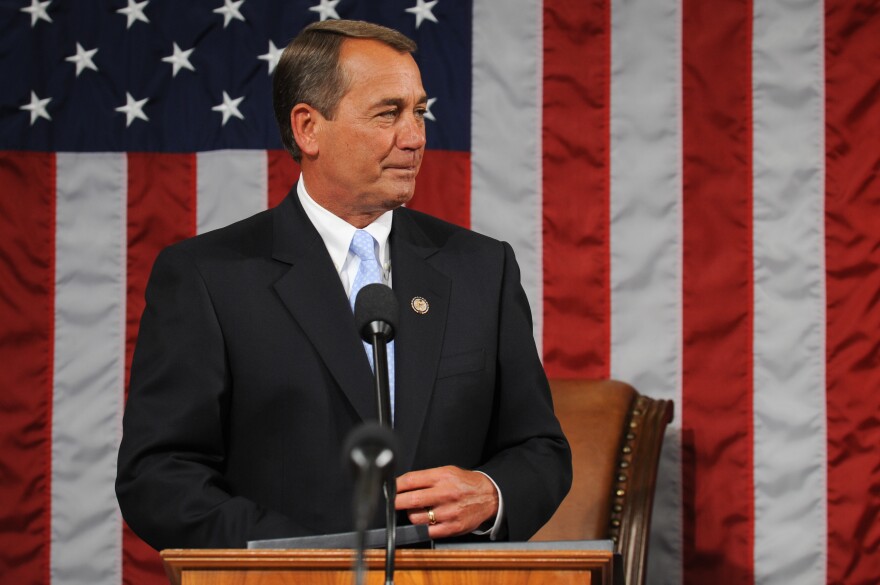 House Speaker John Boehner is known for getting emotional. But even on the Golf Channel?
In an interview with David Feherty at 10 p.m. Monday on "Feherty," the West Chester Township Republican gets misty – he calls them "Boehner moments" -- talking about his golf idol Jack Nicklaus, military veterans and opportunities for young Americans.
Feherty , a TV golf analyst and former pro golfer, also talks a little golf with Boehner, a five handicap before named Speaker of the House in 2011. But my favorite comments provided by the Golf Channel were from Boehner's answer to the question about running for president:
"You've got to either have a very special calling or be an ego maniac to want to do this (President of the United States). On top of that, I smoke cigarettes, I drink red wine, I play golf, I cut my own grass and I wash and iron my own shirts. I'm not giving that up to be president of the United States."
Other comments provided by the Golf Channel:
On his golf match with President Barack Obama, Vice President Joe Biden and Ohio Gov. John Kasich:
"It was Father's Day weekend. The president and I had talked about playing golf but I never got the invitation. So after I became speaker, the president finally gave me a formal invitation, and he told me, 'It is going to be the vice president and myself, and you bring a partner.' So I bring my longtime friend, John Kasich, the governor of Ohio.
"President Obama shows up, we are getting ready to putt a few, and he says, 'Boehner, you and I are partners. We are going to take these guys (Gov. John Kasich and Vice President Joe Biden) on.' I thought John Kasich was going to cry. So the President and I whipped up on them pretty good and they paid up…
"As soon as we got in the cart I said, Mr. President, just remember something, this is just golf."
On presenting Hall of Famer Jack Nicklaus with the Congressional Gold Medal:
"I was proud of it. Difficult. The day we gave Jack the gold medal was an emotional day for all of us…. He was my hero. I have watched virtually every golf tournament on TV for the last 40 years. I don't watch much TV, but I watch a lot of golf. He was my hero, but he also is a big hero in Ohio and one of the greatest heroes golf has ever had."
On why he loves golf:
"Golf for me is more of an escape. It is an escape from all of the other things going on because when you are trying to hit that little white ball, you don't have time to think about anything else."
On playing golf again in the future with Obama:
"The president has suggested, 'Hey, do you think it is too much trouble to play golf again?' I have to look at him and say, 'Yes, because everybody gets bent out of shape worried about what we are up to, when all we are really going to do is just play golf.'"
On life lessons learned on the golf course:
"Perseverance and patience. Probably one of the secrets to my tenure as speaker is just to be patient. Listen to everyone and try to understand. It takes an awful lot of patience."
On how he wants to be remembered:
"Fair, decent and honest. I treat my colleagues – Democrat and Republican – the same. Nobody is more open and transparent in Washington, D.C. than I am. At the end of the day, that is the way I ran my business and the way I run my political life. Just tell people upfront the facts and the truth."
The interview was filmed Muirfield Village in Dublin, Ohio, and in the U.S. Capitol – not at Boehner's home course in Butler County, Wetherington Golf & Country Club.
In his first four seasons, Feherty has interviewed former President Bill Clinton; basketball Hall of Famers Bill Russell and Charles Barkley; sportscasters Al Michaels and Dan Patrick; actors Don Cheadle and Samuel L. Jackson; and golfers Tom Watson, Jack Nicklaus, Lee Trevino and Michelle Wie.
Upcoming guests include golfer Dave Stockton (Aug. 17); World Golf Hall of Famer Judy Rankin (Aug. 24); college football championship coaches Steve Spurrier (Sept. 23) and Nick Saban (Sept. 30); and Paul McGinley, captain of the 2014 European Ryder Cup team (Oct 14).