For more than 30 years, John Kiesewetter has been the source for information about all things in local media — comings and goings, local people appearing on the big or small screen, special programs, and much more. Contact John at johnkiese@yahoo.com.
'Everything But The House' moves to Lifetime channel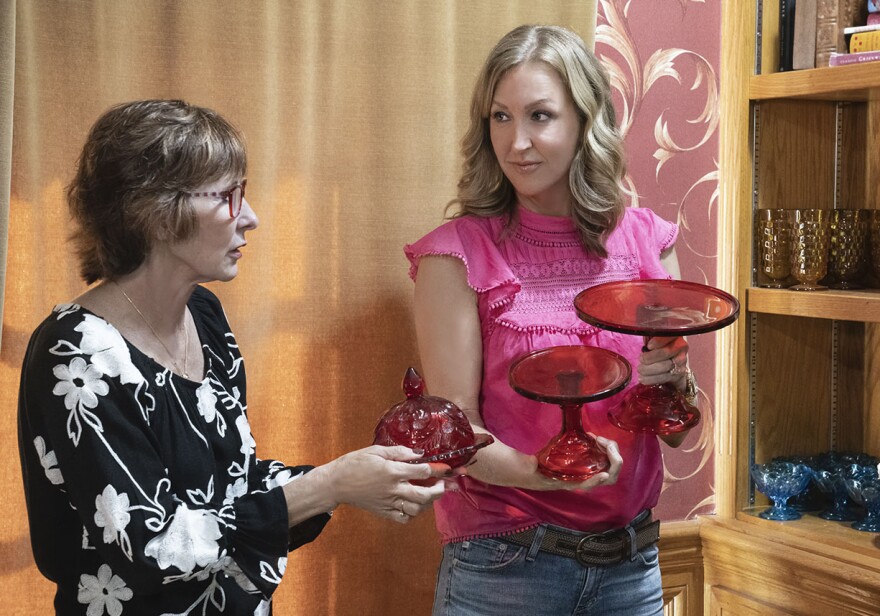 Shows produced for HGTV last year will be seen on Lifetime starting 10:02 p.m. Tuesday, July 11.
Everything But The House, which features online auctions for second-hand items, is getting a second chance on television this summer.
Episodes produced last year — but never aired on HGTV — will move to theLifetime channel starting 10:02 p.m. Tuesday, July 11, and stream the next day.
Good Morning America's Lara Spencer hosts the series which features Jacquie Denny, founder and chief development officer for Blue Ash-based EBTH, helping homeowners find treasurers in their cutter.
Lifetime acquired all 18 EBTH shows produced for HGTV — eight from the first season (2021) and 10 for last year — of which only one aired on Memorial Day weekend, according to Denny.
"I'm excited about it because the families that gave us their time to go into their homes for the show finally get to enjoy what they didn't get to see last year," Denny says. "We still have people asking 'When can we see Everything But The House? Now Cincinnati can see it again."
Lifetime also acquired the full library of HGTV's old Property Virgins to launch a primetime "Home.Made.Nation" lifestyle programming block on Tuesday nights. Property Virgins, with real estate agent Egypt Sherrod helping first-time home buyers, aired on HGTV from 2006 to 2014.
"As part of the expansion of Home.Made.Nation, Lifetime will debut new episodes of the series Everything But the House featuring Lara Spencer as she helps families clear their clutter for some cold hard cash," Lifetime announced in a press release.
Lifetime plans to reboot Property Virgins in early 2024 with a new host. No decision has been made on producing more EBTH shows, Denny says. "We haven't established that we're going to do another season," she says.
Denny told me last year, before the May 28 second season premiere on HGTV, that she had filmed 10 new episodes with Spencer on the East Coast in Pennsylvania, New York, New Jersey and Connecticut.
EBTH premieres at 10:02 p.m. during a Property Virgins marathon. The episode description says that "when a family moved into a historic Victorian home, they also inherited the entire contents of the house. Lara and her team step in to comb through the property and find enough to sell."
On Tuesday, July 18, Lifetime airs two EBTH shows — a new one at 10:02 p.m. about a couple whose collection was stored in a barn severely damaged by a storm, followed by a replay of the Victorian home episode.
EBTH ended its first season in April 2021.Spencer has been involved with the TV project since 2017,before Denny and EBTH partner Brian Graves reacquired the Cincinnati company in 2019.
Spencer, Denny and a team of EBTH experts from Blue Ash help families declutter, downsize, distribute or monetize items in their homes on the show. The cross between American Pickers and Antiques Roadshow has netted sellers up to $61,000 from online auctions at the conclusion of each episode.
EBTH was among several casualties when HGTV streamlined its schedule last summer after parent Discovery Inc. merged with Warner Bros. That deal brought CNN into the fold with the Discovery Channel, Food Network, Travel Channel, TLC, Animal Planet and the Science Channel.
Lifetime is one of the A&E Networks, along with A&E, History, FYI, Vice TV, Lifetime Movie Network and Lifetime Real Women. A&E Networks is a joint venture of the Disney-ABC Television Group and Hearst Corporation.
Lifetime series includes V.C. Andrews' Dawn, Married at First Sight, Dance Moms, Bring It!, Little Women: LA, Little Women: Atlanta, Arranged, The Rap Game, Abby's Ultimate Dance Competition and reruns of Castle, Major Crimes, The Closer and Rizzoli & Isles.