0000017a-3b40-d913-abfe-bf44a4f90000Howard Wilkinson joined the WVXU news team as the politics reporter and columnist in April 2012 , after 30 years of covering local, state and national politics for The Cincinnati Enquirer. On this page, you will find his weekly column, Politically Speaking; the Monday morning political chats with News Director Maryanne Zeleznik and other news coverage by Wilkinson. A native of Dayton, Ohio, Wilkinson has covered every Ohio gubernatorial race since 1974, as well as 16 presidential nominating conventions. Along with politics, Wilkinson also covered the 2001 Cincinnati race riots, the Lucasville prison riot in 1993, the Air Canada plane crash at Cincinnati/Northern Kentucky International Airport in 1983, and the 1997 Ohio River flooding. And, given his passion for baseball, you might even find some stories about the Cincinnati Reds here from time to time.
Democratic Candidates For Ohio Governor Battling For Recognition
It's too early to tell if this is an advantage or a disadvantage, but it is a fact:
The field of Republican candidates for the 2018 Ohio gubernatorial election are generally better known than their Democratic counterparts.
What this means is that the Democratic candidates, who are well-known in their various corners of Ohio, must work a little harder to introduce themselves to voters in the rest of the state. No easy task in a state with 88 counties, and a host of urban areas, and great stretches of suburbs, exurbs and farm land.
Three of the four Republicans ready to do battle for the GOP gubernatorial nomination have run for statewide office before.
Ohio Attorney General Mike DeWine is the champ – he has six statewide elections under his belt – 1990 (when he ran for lieutenant governor with George Voinovich), 1994 and 2000, when he was elected to the U.S. Senate; and 2006, when Democrat Sherrod Brown ousted him from office. But he came back in 2010 to run for Ohio attorney general and was easily re-elected in 2014.
That probably amounts to universal name recognition in Ohio.
Two other candidates – Mary Taylor and Jon Husted have also run statewide. Taylor ran for state auditor and won in 2006; she then joined John Kasich as his lieutenant governor running mate in 2010 and was re-elected in 2014. Husted, a former speaker of the Ohio House, has won two terms as Secretary of State, Ohio's chief elections officer.
The only GOP candidate who has not run for state office before is Rep. Jim Renacci, who has the backing of many of the same people who won Ohio for Donald Trump in 2016.
The four active candidates on the Democratic side are Dayton mayor Nan Whaley, former state representative Connie Pillich of Montgomery, former Ohio Senate Minority Leader Joe Schiavoni of Boardman in northeast Ohio and former U.S. Rep. Betty Sutton of Copley Township in Summit County.
Now, they are all racing about the four corners of the state, trying to make themselves known to Democratic primary voters who live outside their individuals spheres of influence.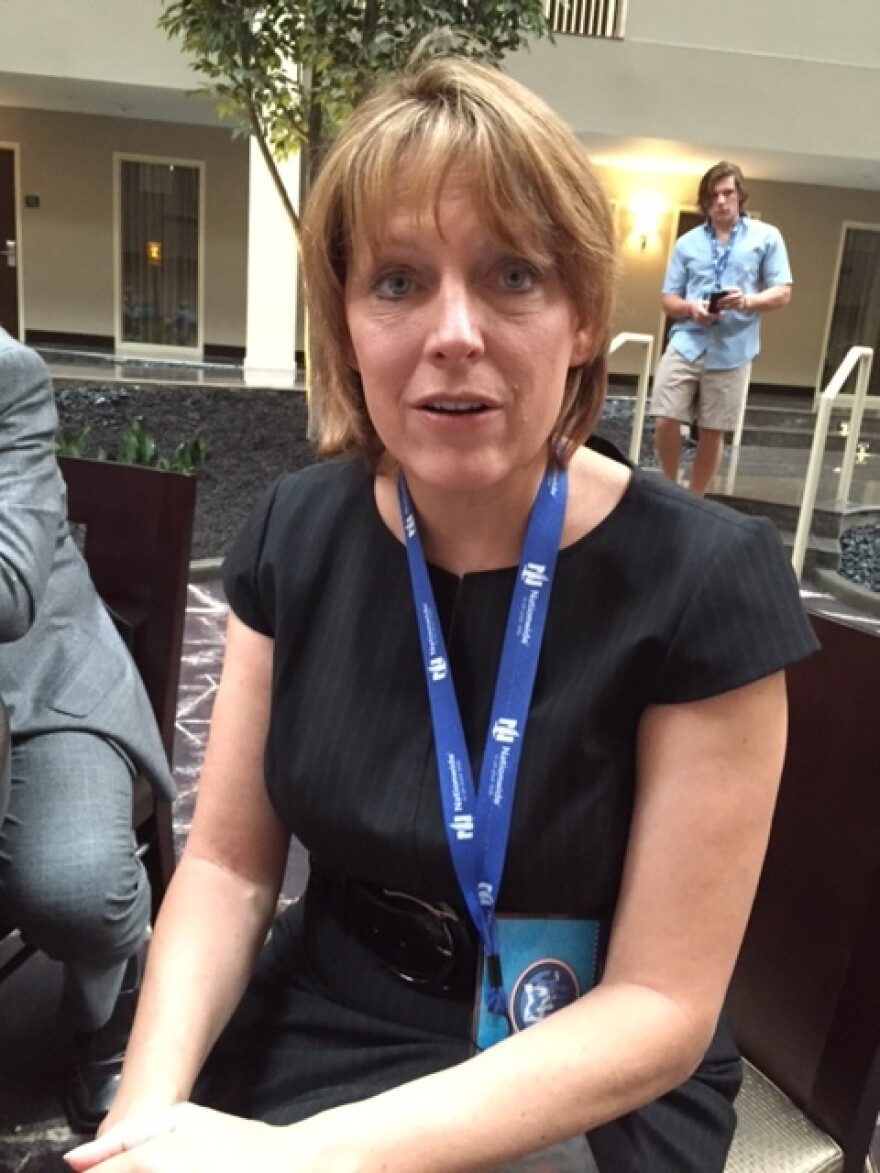 Of the four, Pillich is the only one who has run a statewide race.
In 2014 – which turned out to be a horrible election for Ohio Democrats, one that saw the entire statewide ticket go up in smoke – Pillich was the candidate for state treasurer.
She lost to Republican incumbent Josh Mandel, but she had a higher percentage of the vote than any other Democrat on the statewide ticket, with 43 percent.
That might not sound that great, but it was tremendous compared to the candidate at the top of the ticket, former Cuyahoga County Executive Ed FitzGerald, who won only 33 percent of the vote against Kasich and was perhaps the worst candidate for governor since Ohio became a state in 1803.
Thursday, WVXU talked to Pillich just before she was about to take off for Union County, just northwest of Columbus. It was number 51 in her quest to visit all 88 Ohio counties before the primary next May.
So why is she doing this? Can she not assume that at least Democratic voters have a notion of who she is?
She's doing it because she says that as a candidate – whether for the Democratic nomination or in the general election in Nov. 2018 – she is going to need voters in every part of the state.
"So many candidates have ignored large parts of this state, particularly southeast Ohio and eastern Ohio,'' Pillich said. "We saw some of that play out in last year's election."
In those areas, she said, she finds voters "expressing frustration that they have been ignored."
So she goes from town to town, often stopping in local American Legion Posts and VFW Hall because she, as a former Air Force officer, is a member of those service organizations.
What she is finding, she said, is people who "are mad at both parties; people who are waiting on Trump to deliver on his promises. And they are people who want to protect Medicaid, protect health care.
"They want candidates who care about the things they care about as they try to make a living and raise their families," Pillich said.
The 88-county strategy is something she believes is important.
"Last year, Hillary Clinton thought she only had to go to Columbus and Cleveland and she could win Ohio,'' Pillich said. "A whole lot of people in southeast and eastern Ohio were forgotten. And they turned to Trump."
Pillich said she'll wrap up her 88-county tour by the end of the year. In early 2018, the campaign will start focusing more on the Democratic strongholds of the state.
But the Cincinnati area Democrat is by no means the only Democratic candidate for governor who is making her way into every nook and cranny of the state.
It's likely that before it is all said and done, all four candidates will have campaigned personally in the majority of the counties, if not all 88.
Whaley, the 41-year-old Dayton mayor, said she has been traveling the state since she formally announced her candidacy in May.
And, she said, in January and February, as she was trying to see how much support there might be for her candidacy, she crisscrossed Ohio, holding 162 meetings, many in people's living rooms, "and a lot of the time, I stayed on Murphy beds in people's homes."
"I don't see the need to check counties off a list until I get to 88,'' said Whaley, a candidate for re-election as mayor this year who has no opposition.
"When we decided to run, we were traveling five days a week; I was running the city of Dayton a lot of days from the car, on the phone,'' Whaley said.
Whaley said that, earlier this year, when she was considering a run for governor, her good friend, Cincinnati Mayor John Cranley, who has endorsed her candidacy, "was telling people, 'She must be crazy; she's wandering around the state talking to people.'"
Whaley said she will continue to travel to Ohio counties, big and small, but the reality she said is that about 70 percent of the state's Democratic primary vote is in the Columbus and Cleveland media markets.
But, she said, "southern Ohio is very comfortable to me." The Cincinnati area is home to both her parents and her brother, a lawyer.
"But we'll go everywhere,'' Whaley said. "If we can get in enough living rooms, we can win this thing."
In April, Schiavoni resigned from his position as leader of the nine-member Democratic caucus in the Ohio Senate to concentrate full time on running for the Democratic gubernatorial nomination.
"When I decided to do this, I didn't just run off to the 'Three C's' to get Democratic votes,'' Schiavoni told WVXU, referring to Cincinnati, Columbus and Cleveland.
"I've been everywhere in this state, from Mansfield to Marion to Sandusky to southeast Ohio,'' he said.
Schiavoni said he wants to work very hard to win over people in places like southeast Ohio and eastern Ohio who voted for Trump last fall and "get them to go to the primary next year and pull Democratic ballots. I want their votes; and I will work to earn them."
He said that in 2011, he campaigned all over the state working for the campaign to repeal Senate Bill 5, a measure which would have severely limited the collective bargaining rights of public employee unions.
"I made a whole lot of contacts in that Senate Bill 5 campaign all over the state that I am now going back to as a candidate for governor,'' Schiavoni said.
Schiavoni and Sutton appear to be battling for the support of organized labor, a key component of the Democratic coalition.
Thursday, Sutton picked up the endorsement of the Cleveland Building and Construction Trades Council.
Sutton told WVXU that ever since she entered the race, she has been traveling the state, talking to potential primary voters.
"People are concerned about the same things, no matter where you go,'' Sutton said. "Having good jobs, educational opportunities for their kids. Access to health care. It doesn't matter where you go – big cities, small towns. People care about the same things."
"I can relate to working people,'' she said. "I am the daughter of a boilermaker. I think I understand what people want. They don't want a government on their backs; they want a government on their side."
All 88 counties are important, Sutton said, and she expects to campaign in all of them before the primary – and, if she wins the nomination – in the general election campaign.
"It would be a mistake to ignore any part of the state,'' Sutton said.
The bottom line is this – a Democrat running in the Ohio can't afford to ignore any region of the state. These Democrat candidates all seem to understand that.
And if they start to forget that, they can remind themselves by writing one name on their wrists and check it often. That name is Hillary Clinton.