Macy's Closing Downtown Cincinnati Location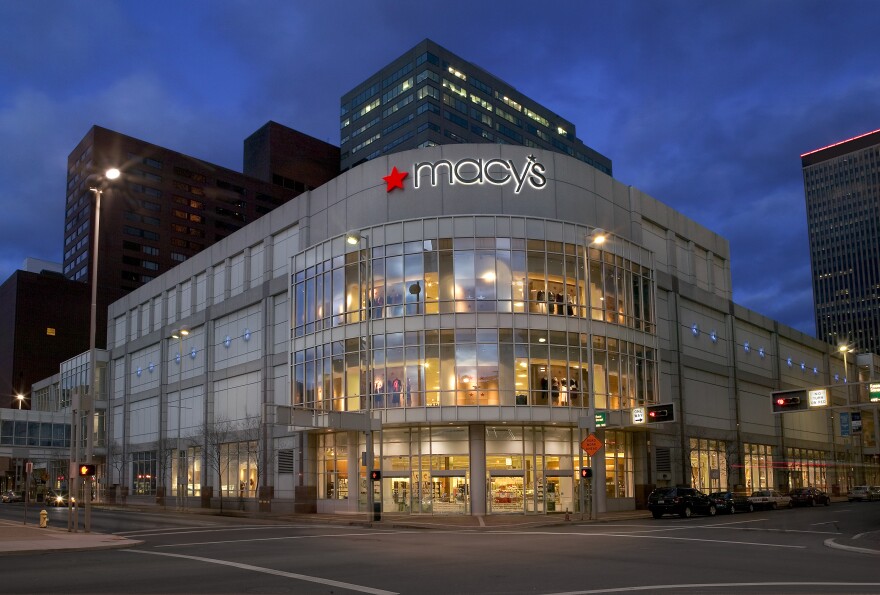 Macy's is closing its Downtown Cincinnati store in mid-March.
The company said in a statement Wednesday the closure is part of the 100 planned store closures announced in August 2016.
"While closing a store is always a difficult decision because of the impact on our customers, our associates and the community, Macy's is delighted to have served this community over the years," the company said in a statement.
"We deeply appreciate the loyalty of our customers and associates and remain committed to the greater Cincinnati area. We look forward to continuing to serve our customers at one of our six outstanding nearby locations, including Macy's Anderson Town Center, Kenwood Furniture, Kenwood Towne Centre, Northgate Mall, and Tri-County Mall."
A company spokeswoman said in an e-mail to WVXU, "this closing does not impact Macy's commitment to Cincinnati."
The company notified the 54 Downtown Cincinnati store associates about the closure Wednesday. Some employees will be offered jobs at other Greater Cincinnati Macy's locations, and others will be offered severance and outplacement resources.
City Manager Harry Black called the store closing unfortunate, but said the city still benefits from having the Macy's corporate headquarters downtown.
"The decision by Macy's to close its downtown retail location is understandable given that the retail sector continues to be greatly disrupted by new technologies and is rapidly evolving from the standard brick and mortar stores to become more flexible and mobile," Black wrote in a memo to mayor and council members.
Black said staff from a number of city departments worked with Macy's "to solve challenges and drive additional traffic by helping to promote surrounding retail through the city's Retail Action Plan, relationships to other businesses, and marketing events."
Mayor John Cranley said downtown's vibrancy means the Macy's space will be filled.
"We consider Macy's long-term success to be very important since their headquarters and hundreds of jobs are downtown," Cranley said.
Black said the city currently does not have a plan for the site and is talking to the property owner.
Downtown Cincinnati Incorporated (DCI) President and CEO David Ginsburg said he is disappointed but not surprised by the announcement.
"Macy's has been announcing store closings for years, the retail business has been changing, people have been speculating this," Ginsburg said. "So certainly not a shock, but it's always a sad day when you see a business that's been downtown for a long time go."
Ginsburg said DCI will work with the building's owners and the city to identify new uses for the prime piece of real estate next to Fountain Square. He said those conversations had already begun prior to Wednesday's announcement by the company.