Covington's Innovation Alley About To Get Re-Energized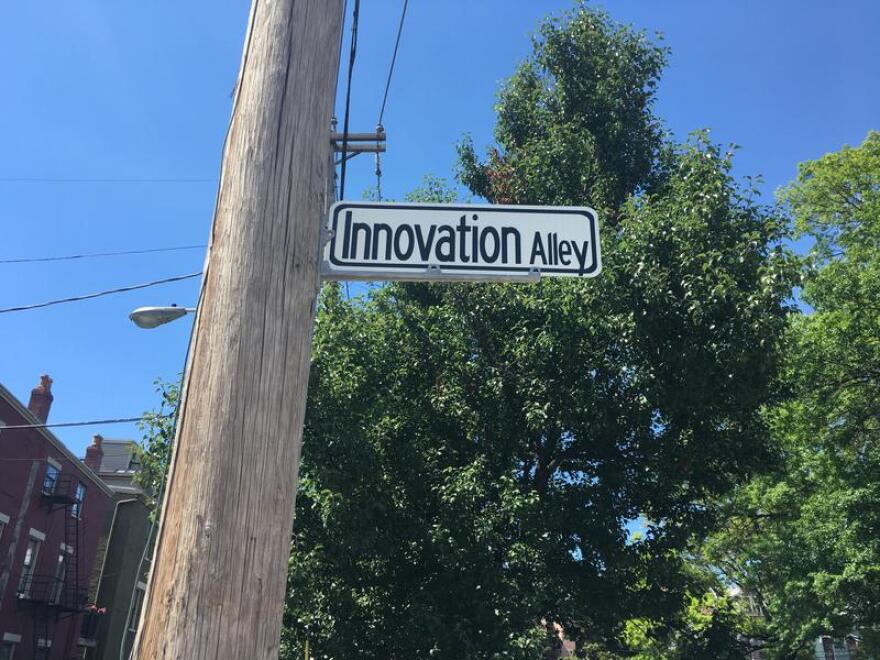 Emersion Design, hired by Covington to rejuvenate Innovation Way, says it should become both a "place and a path." And it appears big changes are in the works with a new NKU partnership, a federally funded small business coach, and hundreds of thousands of dollars for aesthetic improvements.
The entrepreneurial space, designated in 2016 by the city of Covington for early-stage development, stretches east-west between Russell and Washington streets and a half-block north of Pike Street.
The formal partnership with Northern Kentucky University is anticipated to accelerate economic growth in the region with the creation of NKY-HUB, a one-stop shared-services innovation hub. It's expected to provide entrepreneurs with data, talent and money.
NKU plans to release more details in the coming weeks, but Covington says NKU has subleased 112 Pike Street and at least 26 partners have signed on. This is the space that the seed accelerator program UpTech once had. It has since closed.
Working out of 114 Pike Street is a "coach" that is helping small businesses in Covington succeed. Lisa Brann was hired by the Kentucky Small Business Development Center (SBDC) and the CARES Act is helping to fund her office space.
Brann is working out of the space occupied by Aviatra Accelerators, a non-profit that helps women start and sustain businesses. It's hoping to start a new dedicated women of color program this fall.
Alley Improvements
Look for public art, creative lighting plans and outdoor collaboration spaces. The city is looking for arts and infrastructure grants to pay for changes recommended by Emersion Design.
Covington Economic Development Director Tom West points out how the historic Mother of God Church on the alley's north side and the entrepreneurs on the south side present an interesting opportunity to merge the two with art.
"You have one of the oldest institutions on earth in the Roman Catholic Church, and some of the newest companies on earth with these entrepreneurs, and here in the Cov, where we embrace diversity and have such cool architecture, they can co-exist to each's benefit," West said.
Gravity Diagnostics outgrew Innovation Alley and has moved two blocks south.
Entrepreneurship Academy To Start Soon
A 15-week program starts Aug. 18. It's a crash-course in issues and challenges facing small businesses for entrepreneurs and is sponsored by the non-profit Renaissance Covington (RCov) and the Cincinnati-based MORTAR Entrepreneurship Academy to create a local program.