For more than 30 years, John Kiesewetter has been the source for information about all things in local media — comings and goings, local people appearing on the big or small screen, special programs, and much more. Contact John at johnkiese@yahoo.com.
Photo Essay: The Cincinnati Gardens - 67 Years, 67 Memories
Was it a Cincinnati Royals game with Oscar Robertson and Jerry Lucas, or the Ice Capades? I can't remember the first time I went to the Cincinnati Gardens as a kid in the late 1950s or early 1960s.
It might have been for one of the big, showdown Middletown Middies-Hamilton Big Blue basketball games on my birthday in late February.
The Gardens – a special place for 67 years -- will be bought for $1.75-million and demolished by the Port of Greater Cincinnati Development Authority.
But it wasn't so special that the empty building should be saved, in my opinion. It hasn't been economically viable for years, probably even before the Cincinnati Mighty Ducks stopped skating in 2005.
It's never been air-conditioned. Yet it was a special place for the biggest indoor events in the 1950s,'60s and '70s.
I loved watching hockey (Swords, Cyclones, Mighty Ducks) in that old brick barn, just as my dad saw the old Cincinnati Mohawks in 1949, the year it opened.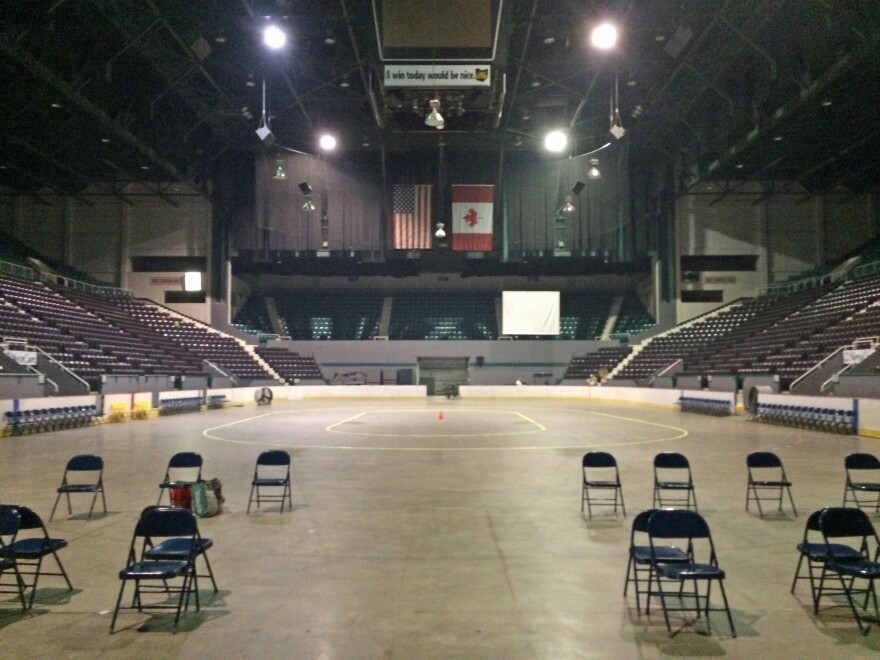 Dad and Mom took us to the Gardens to see the Harlem Globetrotters, Ice Capades, circus and Herb Alpert & the Tijuana Brass. In winter of 1966, after the Reds traded Frank Robinson to the Baltimore Orioles, I saw Robinson and the Reds' VadaPinson watching a Royals game there. Somewhere I have a program with their autographs.
We'd drive down from Middletown to ice skate in the annex next door, and sometimes on the arena floor. Years later I went to model railroad swap meets there.
My parents didn't take us to see the other famous folks who played there.
Here's a list of 67 memories from the Gardens' 67 years, and my photos from a recent tour of the Gardens arena and Legends Museum.
1. Beatles (First North American tour, Aug. 27, 1964)
2. The Rolling Stones
3. The Big O (Oscar Robertson, the greatest player for the Cincinnati Royals NBA franchise 1958-72)
4. Big Bird (Sesame Street Live)
5. Tiny Nate Archibald (Cincinnati Royals rookie 1970)
6. Guns & Roses
7. Ezzard Charles & Joey Maxim (First Gardens boxing match Feb. 28, 1949, six days after opening)
8. Gorgeous George
9. George W. Bush (May 4, 2002)
10. George Jones
11. Tom Jones
12. Hall & Oates
13. Jerry Lucas & Jack Twyman (Jerry Lucas & Jack Twyman (1960s Cincinnati Royals stars with Oscar Robertson)
14. Alan Jackson
15. Michael Jackson
16. Madonna
17. Dr. Martin Luther King (His "The Great Revolution" speech May 8, 1964 at the Gardens was recorded and distributed on a record album with his "I Have A Dream" speech three months later.)
18. Dr. Billy Graham
19. Evil Knievel (indoor motorcycle jumps April 27-29, 1973)
20. Elvis Presley
21. Xavier & The Midwestern City Conference (Xavier played in the MCC when it moved home games off campus to the Gardens in 1983, and beat Ohio State and Nebraska in the 1984 NIT in the Gardens)
22. Bon Jovi & Molly Hatchet
23. Shipstads & Johnson Ice Follies
24. Stone Cold Steve Austin
25. Cedric the Entertainer, Steve Harvey & Bernie Mac (Kings of Comedy tour, 1998)
26. The Kinks
27. KISS
28. Sting
29. Snoopy
30. Richard Nixon (Rallies during the 1960 and 1968 presidential campaigns)
31. Rick Dudley & Floyd Smith (Cincinnati Swords hockey star and coach, respectively)
32. Ric Flair & Junkyard Dog (Professional wrestling May 19, 1999)
33. Chuck Berry & Chubby Checker
34. Jimi Hendrix (May 22, 1970)
35. Sammy Hagar
36. Sammy Davis Jr.
37. Harlem Globetrotters
38. Baltimore Bullets (Frequent foe of Royals, now NBA Baltimore Wizards)
39. Sugar Ray Leonard & Robert Duran (One of the Gardens' first closed-circuit TV fights on June 20, 1980)
40. Bob Dylan (1968)
41. Bob Cousy (Royals player-coach who traded away Oscar Robertson in 1970)
42. Byron Larkin (Xavier star played home games at the Gardens 1984-88)
43. Pearl Jam
44. Pink Floyd
45. Lawrence Welk
46. Peter Gabriel
47. Pete Gillen (XU basketball coach 1985-94)
48. Syrian Shrine Circus (The Cincinnati Swords won the Calder Cup in March 1973 playing a "home" game in Buffalo, in their parent's club arena, because the Gardens had booked the circus the week of the finals.)
49. Sportservice (Royals owner which moved team to Kansas City in 1972)
50. Bad Company
51. Minor league hockey (Mohawks, Swords, Wings, Cyclones, Mighty Ducks)
52. Ozzy Osbourne
53. Bucky Buckhorn (Royals guard 1958-65)
54. Everly Brothers
55. Righteous Brothers
56. Allman Brothers
57. Statler Brothers
58. Public ice skating in the Gardens and annex next door
59. Martina McBride
60. Walt McBride (1980s XU basketball player)
61. Waylon Jennings
62. Loretta Lynn & Tammy Wynette
63. Silverbacks & Commandos (Indoor pro soccer team in 1995-97 & arena football team in 2010-12)
64. Cincinnati Slammers (Continental Basketball League, 1985-87)
65. Cincinnati Rollergirls jammers (Cincinnati Rollergirls, 2006-2016)
66. AC/DC
67. No AC! (Never installing air conditioning or becoming handicap accessible sealed Gardens fate?)