For more than 30 years, John Kiesewetter has been the source for information about all things in local media – comings and goings, local people appearing on the big or small screen, special programs, and much more. Local media is still his beat and he's bringing his interest, curiosity, contacts and unique style to Cincinnati Public Radio and 91.7 WVXU. Contact John at johnkiese@yahoo.com.
Filming Movie Here 'Truly A Dream' For Cincinnati Native Johanna Byer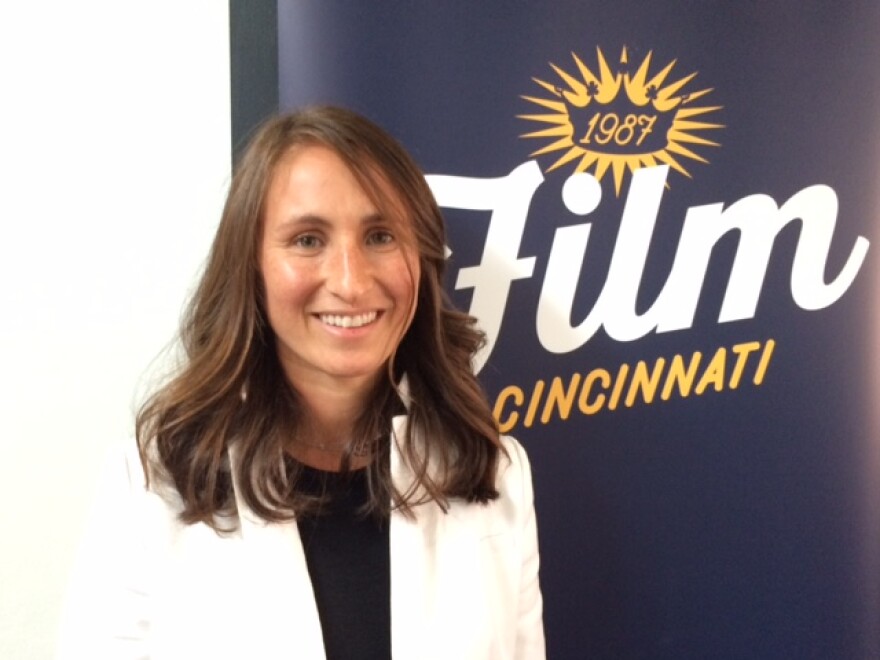 Johanna Byer won't need a downtown hotel room the next six weeks while she produces Point Blank, the Netflix movie with Captain America stars Anthony Mackie and Frank Grillo and Oscar-winner Marcia Gay Harden.
She'll sleep at home.
"This is a truly a dream to be here. I never thought I'd be making a film and staying in my childhood bedroom," said Byer, a Los Angeles-based film executive who attended Cincinnati Country Day School from pre-kindergarten through high school.
Byer got her first taste of filmmaking as a 13-year-old, when Michael Douglas' Oscar-winning Traffic was filmed in the Indian Hill home owned by her mother and stepfather, Rhonda and Larry Sheakley.
"I always loved movies and television," she said Tuesday, when Film Cincinnati confirmed the production I wrote about July 16.  "I always loved storytelling, but I didn't know how to make movies. I didn't understand until I walked into my kitchen that day (in 2000)."
Point Blank, the remake of a 2010 French film, is her first as a producer. It's also her first project as vice president for the new U.S. film division of Gaumont, a huge international company based in France. She has been planning to remake the thriller since hired by Gaumont 18 months ago. Director Joe Lynch (Mayhem) starts filming here Monday, Aug. 6.
Faced with a gap in financing the film, Byer looked at filmmaking incentives available in Atlanta before calling Kristen Schlotman, the Film Cincinnati executive director whose first film was Traffic. They have kept in touch since Scholtman met Byer in the family's Indian Hill kitchen. She told Byer to apply for Ohio's filmmaking tax incentive program immediately.
Unlike Gotti, Carol and Miles Ahead, which were shot in Cincinnati but set in New York, Point Blank was rewritten to be set here and "feature Cincinnati in all of its glory," Byer said. The film will show off the ArtWorks murals (particularly Byer's favorite: James Brown at King Records), the Sheakley Group, Sibcy-Cline, many local craft beers and Skyline Chili, the place Byer missed most while attending the University of Southern California and working in Los Angeles.
"We went to Skyline all the time. We'd go there after charity events and galas, all dressed up," she says. "Skyline is best when you're wearing tuxes."
Byer will produce with old friend Joe Carnahan, with whom she worked with at Working Title Films before joining Gaumont, and actor Grillo, who is making his third movie here in 13 months. Grillo appeared in Reprisal with Bruce Willis and Johnathon Schaech last August, and Donnybrook last October with Jamie Bell and Margaret Qualley.
Carnahan's credits  include executive producing NBC's The Blacklist and NBC's State of Affairs with Katherine Heigl; and writing Smokin' Aces with Jeremy Piven and Ray Liotta; as well as 2010's The A-Team revival with Liam Neeson and Bradley Cooper.
In Point Blank, Mackie plays an emergency room nurse who helps a wounded murder suspect (Grillo) escape from the hospital after a gang kidnaps the nurse's pregnant wife (Teyonah Parris from Empire, Mad Men).
The cast includes Harden (2000 Academy Award winner for Pollock; CBS' Code Black); Boris McGiver (House of Cards, Person of Interest, Boardwalk Empire, The Wire) and Markice Moore (The Paynes, Snowfall, The Walking Dead, Rectify).
Schlotman said Point Blank is "a bigger (production) than what we're used to." The film will need 490 extras for scenes in the hospital, bars, restaurants and on the street, said D. Lynn Meyers, casting director. Meyers made a plea for extras during the Film Cincinnnati press conference Tuesday.
"We want you to be in this movie," she said. "It's a great experience to be on a movie set, and you don't even have to leave town to do it."
Those interested in being an extra should email their name, age, resume, a headshot photo, phone number and clothing sizes to pointblankextras@gmail.com. Extras may be needed day or night, and often on short notice, she said.