For more than 30 years, John Kiesewetter has been the source for information about all things in local media — comings and goings, local people appearing on the big or small screen, special programs, and much more. Contact John at johnkiese@yahoo.com.
Comedy Legend Carl Reiner Dies At 98
Carl Reiner, one of the funniest men I've ever met, died Monday night at his Beverly Hills home.
Reiner's accomplishments are so many – winning nine Emmy Awards, including five for The Dick Van Dyke Show he created, wrote and produced (1961-66); directing Oh God with George Burns and John Denver, and The Jerk with Steve Martin; recording The 2000 Year Old Man and other hilarious comedy albums with longtime friend Mel Brooks; and making frequent acting appearances in everything from George Clooney's Ocean's Eleven (and sequels) to Mad About You, Family Guy, Parks & Recreation, House, Boston Legal, Ally McBeal, Frasier, Toy Story 4 and The Cleveland Show.
The father of actor-director Rob Reiner worked with Brooks and future playwright Neil Simon writing and directing one of TV's first big hits, Sid Caesar's Your Show Of Shows, in the early 1950s. The "2000 Year Old Man" routine, in which Reiner asked Brooks about historical figures and modern day inventions, debuted on Steve Allen's TV variety show in 1960.
At that time, Reiner was trying to launch a TV sitcom starring himself called Man Of The House. It was revamped in 1961 to star Dick Van Dyke as a writer for TV star Alan Brady (Reiner). The sitcom won Emmys for best comedy in 1965 and 1966, helping launch the career of Van Dyke's TV spouse, Mary Tyler Moore.
The show was a success no thanks to Cincinnati's Procter & Gamble Co., which pulled its sponsorship after the first season because Moore wore Capri pants instead of a house dress like June Cleaver and Donna Reed. Reiner told me the story one of the times we met on the TV Critics press tour in Los Angeles. See my 2016 story below, "Enjoy 'Dick Van Dyke Show' Sunday, Which P&G Almost Killed."
You'll also enjoy this 2014 Los Angeles Times profile, "Comedy Writer-Actor Carl Reiner's Life Of Laughter,"by Susan King. She recalls Reiner's funniest sketch with Caesar, a satire of TV's This Is Your Life with Caesar as the reluctant honoree.
https://youtu.be/03VOs3HRi5M","_id":"0000017a-3b4a-d913-abfe-bf4e9b080000","_type":"035d81d3-5be2-3ed2-bc8a-6da208e0d9e2"}">https://youtu.be/03VOs3HRi5M">https://youtu.be/03VOs3HRi5M","_id":"0000017a-3b4a-d913-abfe-bf4e9b080000","_type":"035d81d3-5be2-3ed2-bc8a-6da208e0d9e2"}">https://youtu.be/03VOs3HRi5M
According to People magazine, Reiner explained his comedy writing successat an American Film Institute Seminar in 1977: "You have to imagine yourself as not somebody very special but somebody very ordinary. If you imagine yourself as somebody really normal and if it makes you laugh, it's going to make everybody laugh."
Reiner received the Writer's Guild Laurel Award for lifetime achievement in TV writing in 1995, according to Variety. He was presented the Mark Twain Prize for Humor at the Kennedy Center in 2000, and a career achievement award in 1991 from the American Comedy Awards.
Here's my story from Dec. 8, 2016:
Enjoy 'Dick Van Dyke Show' Sunday, Which P&G Almost Killed
If Procter & Gamble had its way, the "Dick Van Dyke Show" being celebrated by CBS in prime-time Sunday would never have aired.
P&G, the sponsor for the first "Dick Van Dyke" season (1961-62), pulled the plug on advertising a second season of the Dick Van Dyke-Mary Tyler Moore comedy after it finished No. 80.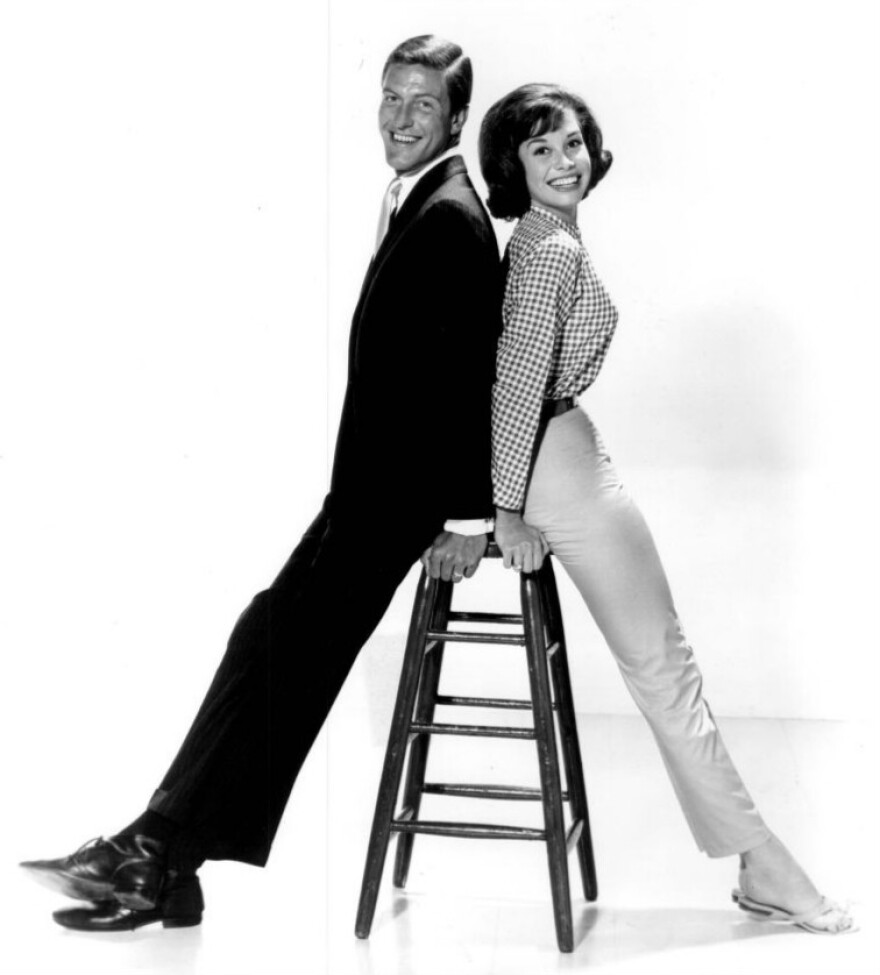 But there was a bigger problem: Pants.
Executives at Cincinnati's P&G didn't like Laura Petrie (Moore) wearing clingy Capri pants. P&G folks wanted to trade Laura's tight slacks for what all the other '60s TV housewives wore: Pressed, full-skirted dress and a string of pearls.
Creator/producer/actor Carl Reiner once told me that P&G executives "came to my office and said, 'Capri pants are not what people wear.' And I said, 'That's what she wears all the time!' And they said, 'Well, you have to have her in a dress at least one scene every show.' "
Executive producer Sheldon Leonard flew to Cincinnati with Lee Rich, the advertising agency vice president who placed P&G commercials, to plead their case to P&G executives to save the show, according to "The Official Dick Van Dyke Show Book" by Vince Waldron (Hyperion, 1994).
P&G agreed to sponsor only half of the show, which sent Leonard scrambling to New York to keep "Dick Van Dyke" on the air. He finally sold the other 15 minutes to Kent Cigarettes.
Ironically, P&G turned out to be the hero of this story. After securing full sponsorships, Leonard learned that CBS executives "seemed completely uninterested in renewing" the show, Waldron wrote. So P&G threatened to pull its lucrative daytime soap operas off CBS in 1962.
"Do you want to keep our daytime business?" Leonard recalls the P&G executives telling the network. "Then you'd better find a time spot for Dick Van Dyke."
And a hit was born.
"Dick Van Dyke" jumped into Nielsen's Top 10 the first month of the second season, in fall 1962, and finished No. 9. It was No. 3 the third season, behind the "Beverly Hillbillies" and "Bonanza" (1963-64), and stayed in the Top 20 through its final season (1965-66). "Dick Van Dyke" won 15 Emmys in five seasons for Van Dyke, Moore, Reiner, director Jerry Parris and writers Bill Persky and Sam Denoff.
For those who never saw the show, here's the set-up: Dick Van Dyke starred as Rob Petrie, a television comedy writer for "The Alan Brady Show" (Reiner). He worked with writers Buddy Sorrell and Sally Rogers (Morey Amsterdam, Rose Marie) and producer Mel Cooley (Richard Deacon). Rob and stay-at-home wife Laura (Moore) had a son, Ritchie. Next door lived dentist Dr. Jerry Helper (series director Paris) and his wife Millie (Ann Morgan Guilbert).
On Sunday, CBS airs two newly colorized episodes as "The Dick Van Dyke Show – Now in Living Color!" (8 p.m., Channel 12, CBS) from 1963 and 1965. They're two of my favorite episodes.
"That's My Boy??": Van Dyke is hilarious as the new father convinced they've brought the wrong baby home from the hospital in the third season premiere from Sept. 25, 1963.
"Coast to Coast Big Mouth": Laura is tricked by a game show host into revealing that TV star Alan Brady (Reiner), her husband's boss, is bald. Mary Tyler Moore shows off her brilliant comic skills tearfully explaining to her husband the prizes she won on the game show. It's a classic, ranked No. 8 on TV Guide's list of the "100 Greatest TV Episodes of All-Time." The episode opened the fifth and final season on Sept. 15, 1965.
If ratings are good, expect to see more "Dick Van Dyke Shows" on CBS in the future, similar to the "I Love Lucy" specials. Just don't expect CBS or P&G executives to admit they wanted to cancel the show before it was a hit.