For more than 30 years, John Kiesewetter has been the source for information about all things in local media — comings and goings, local people appearing on the big or small screen, special programs, and much more. Contact John at johnkiese@yahoo.com.
Reds Drop Jim Kelch, Prepare For Marty's Successor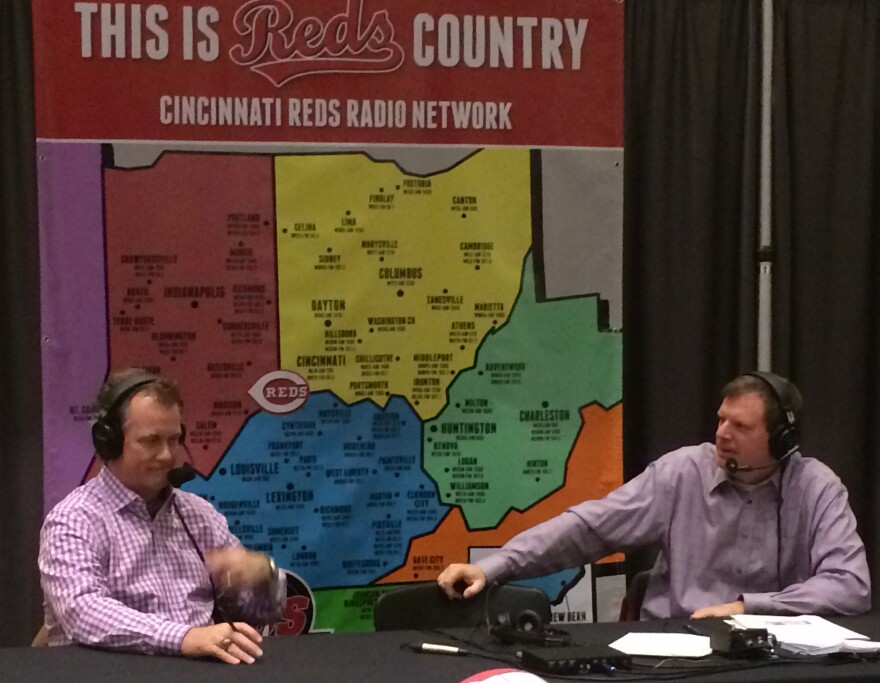 The Reds are preparing for life after Marty Brennaman, which won't include Jim Kelch.
The Reds TV/radio swing man was told in October he won't be back in 2018 after eight seasons, according to Enquirer baseball writer C. Trent Rosecrans.
"They simply told me that with Marty nearing the finish line that they were going to go in another direction in setting up the person who was going to follow him, and I was not that person," Kelch told Rosecrans.
Brennaman, 75, who returns for his 45th season in 2018, has been working on one-year contracts and openly talking about retirement for three years. It was not known if he was returning next year until he told me so in September.
"It wasn't a hard decision. I still enjoy what I do, so why quit now?" Brennaman told me.
The Enquirer story says the Reds want "to simplify, (having) fewer people doing games."
Last season the Reds used five play-by-play announcers on radio and TV -- Brennaman, Kelch, Thom Brennaman, Jim Day and George Grande – with analysts Jeff Brantley, Chris Welsh, Doug Flynn and a few appearances by Joe Morgan.
I like Kelch, and the Brennaman-Kelch pairing was my favorite for Reds games, because Jim would ask follow-up questions and draw Marty out on topics. But I'm also not surprised that the Reds don't see Kelch as the main man after Marty leaves.
Brennaman has been talking about leaving the Reds radio booth for three years. In early 2015, he told me that Reds fans won't know he's decided to retire until after the last game of that season. He told Bill Cunningham the same thing in July 2015 -- that he wanted to go away quietly, without fanfare or festivities.
"When I walk away, I'll let them know the day after the season ends. I don't want all the (farewell stuff) that goes along with it. I understand they could probably make a lot of money. But whatever they want to do, they'd have to do it the next year, because I'm just not interested in all that stuff. I don't want to be bothered with it. I don't need a night. The club and the fans have been good enough to me. I don't need all that stuff."
In January 2016, he said at the Joe Nuxhall Memorial Sports Stag in Hamilton that he would be back in 2016, but "after that I don't know what I'm going to do. I'm conflicted."
Brennaman said it was tough watching the Reds lose 98 games in 2015, and trade away stars Johnny Cueto, Mike Leake, Todd Frazier and Aroldis Chapman. The club traded Jay Bruce in 2016, and let Zack Cozart enter free agency last month after losing 94 games and finishing last in the National League Central Division for a third straight year.
"I'd come home tell (wife) Amanda, 'If I have to look at these guys again, I'll throw up.' And the next day I'd change my mind," he said at the 2016 stag.
Brennaman praised the Castellini family, which runs the club, saying they will let him work a reduced schedule in his next contract, if he desires.
"I'll probably be around after 2016," but he doesn't know in what capacity, he said. His final comment on the matter was: "Damn! 42 years is long enough!"
Is 45 years long enough? Will this be Marty's last season?