For more than 30 years, John Kiesewetter has been the source for information about all things in local media – comings and goings, local people appearing on the big or small screen, special programs, and much more. Local media is still his beat and he's bringing his interest, curiosity, contacts and unique style to Cincinnati Public Radio and 91.7 WVXU. Contact John at johnkiese@yahoo.com.
TV Series, 2 More Movies 'Gearing Up' In Cincinnati
Producers of a TV series, and two more feature films, are preparing to shoot here, says Kristen Schlotman, Film Cincinnati executive director.
"It's going to be a busy fall," Schlotman said in a far-ranging interview on WVXU's Cincinnati Edition Tuesday. Here's a link to the 14-minute conversation.
"We have three projects that are gearing up this fall – one is a TV series, the other two are features. Titles I can't give away yet, but there are certainly lots of opportunities to work both behind the camera or in front of the camera," Schlotman said.
Representatives from all three productions "should be" at Film Cincinnati's Backlot annual fundraiser Saturday, Sept. 7, at the Waypoint Aviation hangar at Lunken Airport.
"It's going to be their welcome to Cincinnati party," Schlotman said.
The three fall productions come to town after a busy first half of the year. Director Todd Haynes (Carol) returned to Cincinnati in January to shoot Dark Waters (formerly Dry Run) with Mark Ruffalo and Anne Hathaway. Right after that, Ron Howard's Imagine Entertainment rolled into Middletown to open a production office to prepare for shooting a week of J.D. Vance's Hillbilly Elegy with Glenn Close and Amy Adams. Here's my story and photos from the Middletown filming Aug. 7.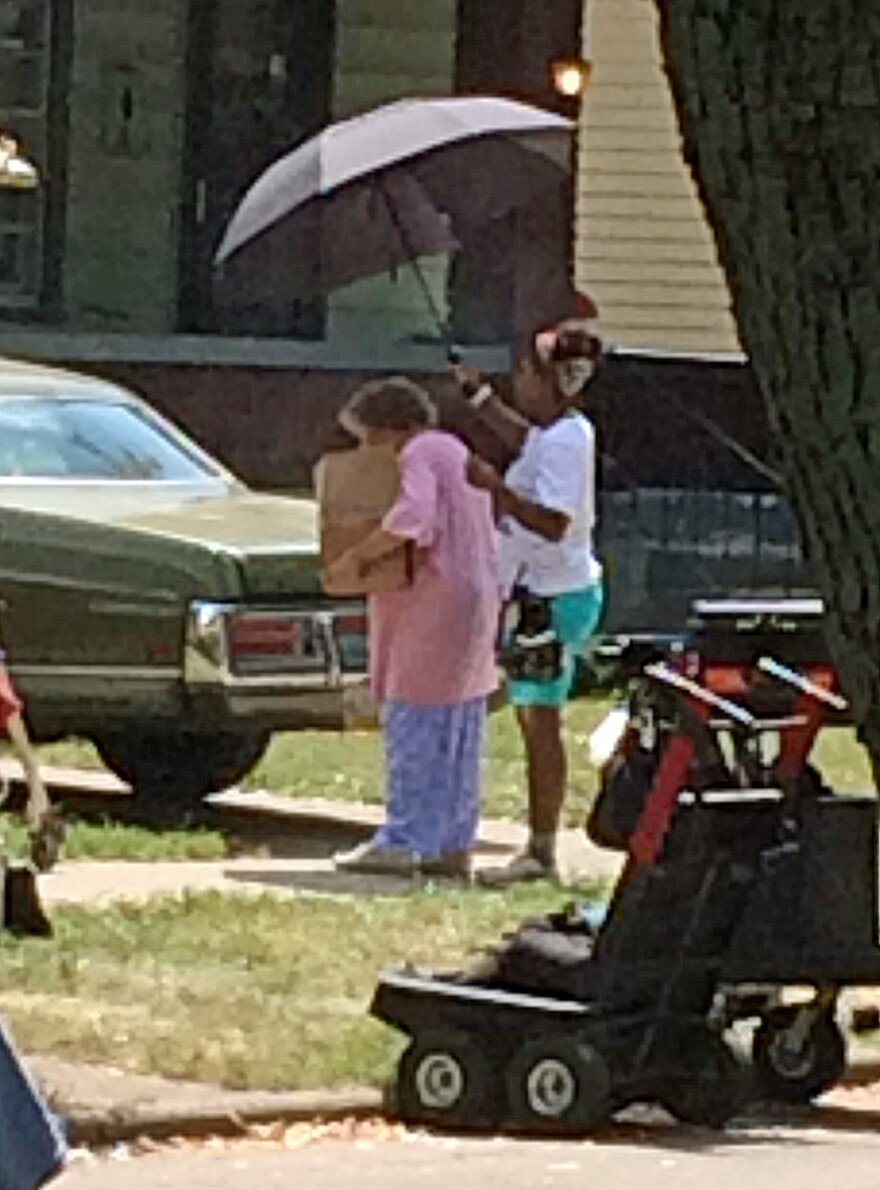 In Dark Waters, which premieres Nov. 22, Ruffalo plays Cincinnati attorney Robert Bilott, who sued DuPont in 1999 for lethal pollution in West Virginia.
General admission tickets to the Backlot party are $75. VIP tickets are $175. The "Drop Dead Gorgeous" theme is for a zombie party, with those attending going through wardrobe, hair, makeup and special effects.
"We get a lot of credit for bringing these movies to town, but people don't pay us. We're a nonprofit," Schlotman said. "We are set up like an economic development agency that creates these opportunities for locals. So we raise all of our annual budget … We invite everyone to come out and support us, because that support allows us to bring more movies to town."
Also during the interview, Schlotman discussed:
HILLBILLY ELEGY: Director Ron Howard wanted to shoot the adaptation of Vance's memoir, set in Middletown, entirely in the Butler County steel town. But Ohio was out of tax credit funds when Netflix applied on March 7, so he started filming in Georgia on June 12. The fate of the eight-year-old Ohio Film Tax Rebate program was uncertain until Gov. Mike DeWine signed the new state budget July 18.
"Ron Howard wanted to make the entire film here in Ohio, but that was at a time when our tax credit was under discussion for the new state budget. And so we didn't have that in place in time for them to do that whole production here. Therefore they were forced to start in Atlanta," Schotlman explains.
OHIO TAX CREDITS: Ohio's 30% tax credit for filmmakers again was budgeted at $40 million a year, or $80 million over the biennial budget, she said.
"Those tax credits are paramount if we want to stay competitive in this industry. Ultimately we'd like to see that number enhanced so that we don't turn projects away," she said.
AMERICAN NINJA WARRIOR: The popular NBC summer reality show, shot at The Banks Memorial Day weekend, was brought here by Schlotman's office.
"We've wanted them for quite some time. And the reason we wanted that production in town is that they booked – in 10 days time – they booked 3,000 room nights. They spend up to $7 million, and we get four hours of prime-time television (promoting Cincinnati)," she said.
The Second Street location for the obstacle course was decided upon in conjunction with the City of Cincinnati, Cincinnati Police and the Reds.
"I was told at the end of that production that more people showed up to view the taping of American Ninja Warrior in Cincinnati than anywhere else they've been across the country," she said.