0000017a-3b40-d913-abfe-bf44a4f90000Howard Wilkinson joined the WVXU news team as the politics reporter and columnist in April 2012 , after 30 years of covering local, state and national politics for The Cincinnati Enquirer. On this page, you will find his weekly column, Politically Speaking; the Monday morning political chats with News Director Maryanne Zeleznik and other news coverage by Wilkinson. A native of Dayton, Ohio, Wilkinson has covered every Ohio gubernatorial race since 1974, as well as 16 presidential nominating conventions. Along with politics, Wilkinson also covered the 2001 Cincinnati race riots, the Lucasville prison riot in 1993, the Air Canada plane crash at Cincinnati/Northern Kentucky International Airport in 1983, and the 1997 Ohio River flooding. And, given his passion for baseball, you might even find some stories about the Cincinnati Reds here from time to time.
Ohio Women Say Hillary Clinton's Historic Achievement Long Overdue
PHILADELPHIA – When Jocelyn Bucaro, the chairman of the Butler County Democratic Party, was on the floor of the Wells Fargo Center watching as Hillary Clinton became the first major party presidential nominee, she was thinking of her daughters back home.
"They're 12 and 10 and they were watching with their father," Bucaro told WVXU Wednesday morning. "I know that they understand the historic nature of what had just happened.
"And, they know, too, that there is nothing they can't achieve," Bucaro said. "As for myself, just the fact that we had finally nominated a woman – I was incredibly emotional there on the convention floor last night."
Many of the Ohio Democratic women gathered here for the Democratic National Convention believe this is something which should have happened a long time ago.
"It's long past time," Bucaro said. "Women have had the right to vote now for over 90 years."
Former State Rep. Connie Pillich of Montgomery said she never thought that the nomination of a woman was inevitable because of Hillary Clinton's experience in 2008 – running for the Democratic nomination against Barack Obama and losing.
"That taught me that nothing is inevitable," Pillich said. "You have to go out and fight for it."
Clinton's victory Tuesday night does, however, "open that door forever for other women."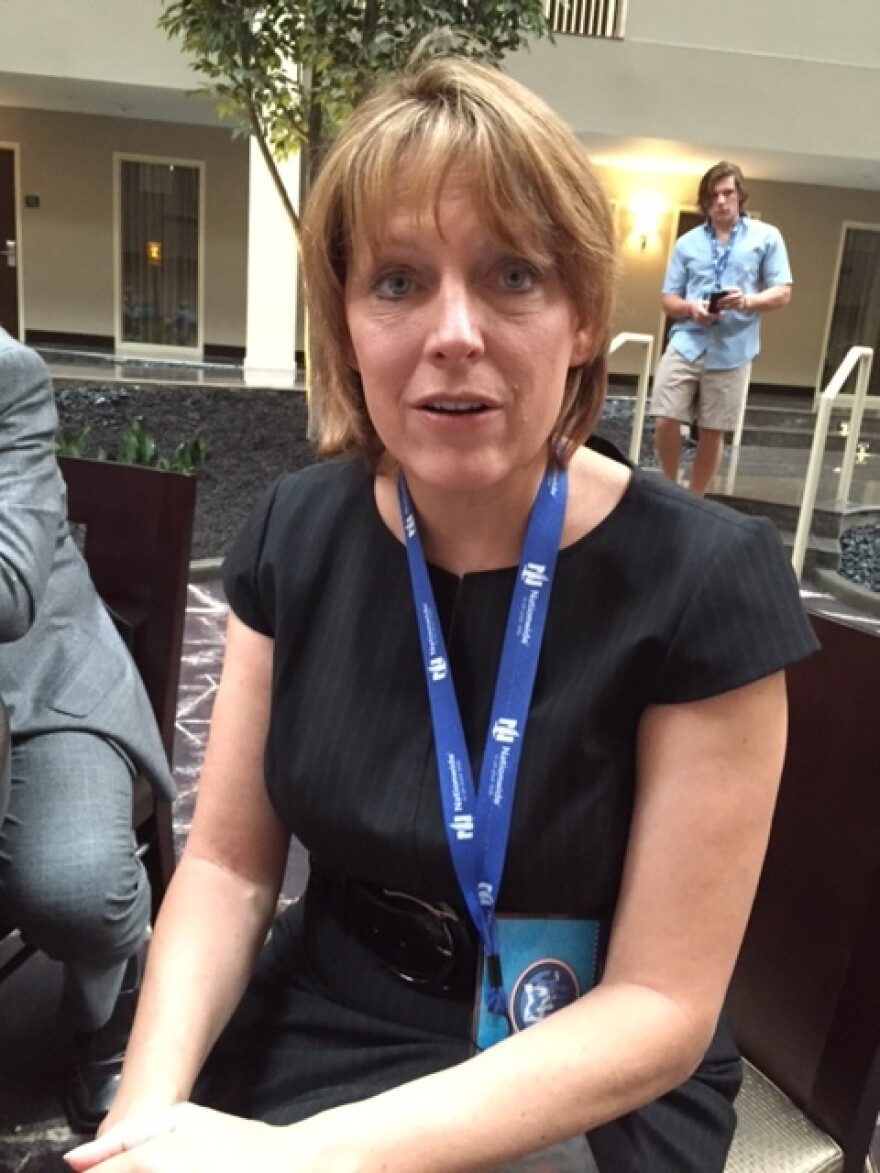 The fact is, Pillich said, "this country has been way behind the rest of the world. Other nations – many other nations – either have now or have had women leading their governments for decades now. We are playing catch-up."
State Rep. Denise Driehaus of Clifton agreed with Pillich, saying "clearly we are behind the curve in this country."
"But, that being said, we need to embrace this moment," said Driehaus, who is running for Hamilton County commissioner this year. "I think of it in terms of all the young girls out there.
"This opens up all kinds of doors – not just in politics," Driehaus said. "My younger nieces look at what Hillary has accomplished and it's more of a matter of fact thing to them. They're being raised to believe they can achieve whatever goal they desire, in whatever field they desire."
Bucaro said she recalls the criticism Hillary Clinton faced in 1993 when she was First Lady and she took on the issue of health care.
"The Republicans went after her; how dare a First Lady get involved in a such an important issue; a First Lady was just supposed to preside over social functions," Bucaro said. "The audacity she showed then was remarkable. And now it has led to this."
It felt like I felt when I was 22 years old and I volunteered to join the Navy. Not many women did that in those days. But I was proud to do it.
Now that a woman has been nominated by a major party for president, Bucaro said, it is time other glass ceilings be broken.
"Some day it will be the first openly gay president or the first Latino president, or a president who is of a religious faith other than Christianity," Bucaro said. "The doors are open now."
Ruby Gilliam of Carroll County is, at age 93, the oldest of the Ohio delegates.
She said she felt deep emotion when she was on the floor of the convention Tuesday night and realized that a woman had just been nominated for president.
"It felt like I felt when I was 22 years old and I volunteered to join the Navy," Gilliam said. "Not many women did that in those days. But I was proud to do it."
"I was sitting on the floor of the convention next to a young woman, one of the youngest delegates," Gilliam said. "When the nomination was official, I turned to her and said, 'dear, I am the past. You are the future. And I am happy for you.'"