City's $1 sale of former Saks building to 3CDC moves closer to approval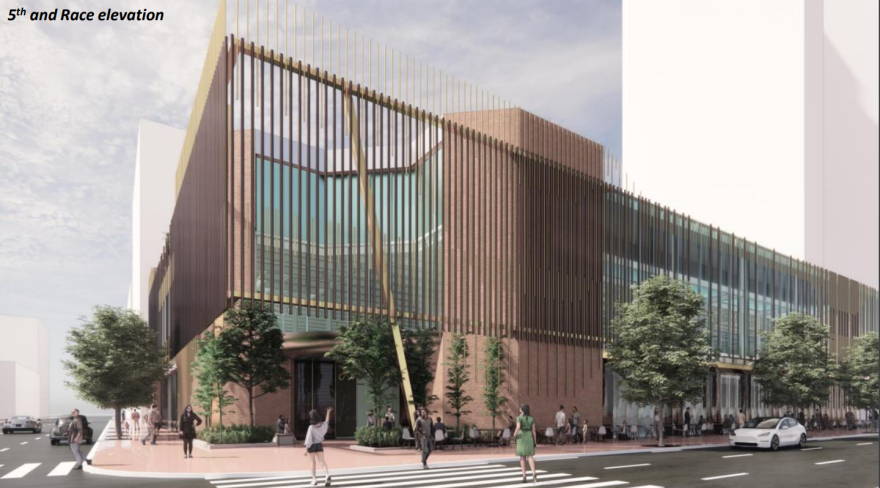 3CDC has initial approval to purchase the former Saks Fifth Avenue building from the city of Cincinnati for $1. The Cincinnati Planning Commission approved the sale in a 3-1 vote Friday. It is subject to City Council approval.
The property on West Fifth Street Downtown has been vacant since the department store closed in 2022. The city purchased the building for $3 million earlier this year, opting to offer more than the $2,595,000 estimate fair market value to avoid arbitration.
Assistant City Manager Billy Webber says that's because 3CDC is already managing development of the rest of the convention center district, plus speed is a priority.
"Right now we are shouldering holding costs, property taxes, and maintenance and management of the property," Webber said. "And so of course we are looking for the benefits of the economic redevelopment — that's more of the carrot. There's also a stick, obviously, to minimize city expense and not drag out the ownership period for the city."
RELATED: Plans for revamping Cincinnati's convention district are taking shape
Webber and two other planning commission members voted in favor; Anne Sesler recused herself from the discussion and vote; Jacob Samad and John Eby were absent.
The only no vote was Vice Mayor Jan-Michele Lemon Kearney, who will get a chance to vote again when the sale is at City Council for final approval.
"3CDC does a great job — I'm not an anti-3CDC person, I think they they do a great job for our city and I have a lot of respect for them," Kearney said. "But ... I do feel like we're rushing. I am concerned that minority and women developers weren't given a chance, maybe not to have total say, but to partner in this."
Planning Commission Chair Byron Stallworth voted in support of the sale, but said he feels torn.
"It's clear to me why the city is working with 3CDC on this particular project, but best in class sourcing strategies [for minority partners] will manifest themselves in coming projects in the city," Stallworth said. "I fully expect that and I think that the community is demanding it at this point."
RELATED: A new conference aims to support Cincinnati's minority developers
Lann Field, 3CDC vice president of development, says it's a somewhat risky development.
"We're going to have to invest a lot more capital upfront," Field said. "Interest rates have almost doubled since we did The Foundry across the street ... but the rent rates that tenants are willing to pay have not increased at that same pace."
Field says they have a restaurant partner interested in using about 5,500-square feet of the 8,500-square feet planned for commercial.
The city's Department of Planning & Engagement held a community engagement session Aug. 9. Thirteen people attended and some expressed concerns about the lack of an RFP process, the need for more office space given work-from-home trends, and a desire to see more height at the location.
The Downtown Residents Council submitted a letter indicating an unanimous vote of support; and the Hyatt Regency's general manager sent a letter supporting the project. The Hyatt Regency ballroom is located directly above the space 3CDC wants to renovate.